[Technical Camp | Leadership Skills Camp | Romanna's Diary | Komandant's poem | Guest's words | Photoalbum ]
---
Technical-preparatory camp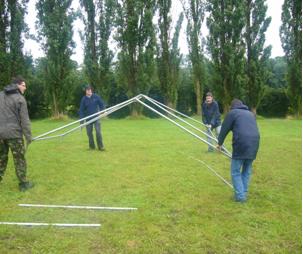 Technical-preparatory camp took place at Tarasivka before the start of the summer camps. 14 young adults took part in the camp which took place from the 14th – 28th July 2007. During the two weeks the participants prepared Tarasivka for the forthcoming camps.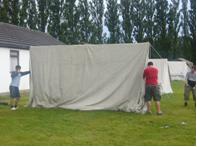 During the camps the rain poured nearly every day, however on occasion the sun shone. The campers set-up the campsite, put up tents, built beds, cut the grass and conducted various repairs.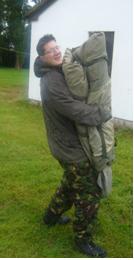 Technical-preparatory camp – was not just about hard work, the campers entertained themselves with pool and darts tournaments, poker and other card games. On the 19th July the campers celebrated Roman Conrad's 23rd birthday. The campers had an end of tabir party on the last evening, 20th July

The command team was made up of the following people: Ivan Kaniuka – Komandant, Oleh Pszenyczniak – bunchuzhniy, Krystyna Buniak – treasurer, Stefan Mandziy, Teresa Pszenyczniak, Ambros Dochuminskiy, Petro Wintoniuk, Maria Kopzyk, Ivan Kopzyk, Roman Conrad, Bohdan Semehen, Lidia Pszenyczniak, Zenko Polushen and Stefan Kolesar.