VI World Zlet in Ukraine: Day 3
Touring the city with Lviv oseredok members
---

Lviv: [ Opening Ceremonies | Day 1 Photos | Day 2 | Day 3 ]
On the road: [ Days 3 & 4 (Kalush) | Day 5 Photos ]
Kyiv: [ Day 6 | Day 7 (Kaniv) | Day 8 | Day 9 | More Photos ]
---
On the third day, Zlet was divided into 3 groups, which subsequently visited CYM oseredoks. The largest group visited Ternopil (including Trembita orchestra), the smallest group went to Kalush, every other participant stayed in Lviv.
We waited for the departure of the first two groups. All participants in Lviv subsequently walked up to the Vysokyj Zamok, where CYM members from Lviv talked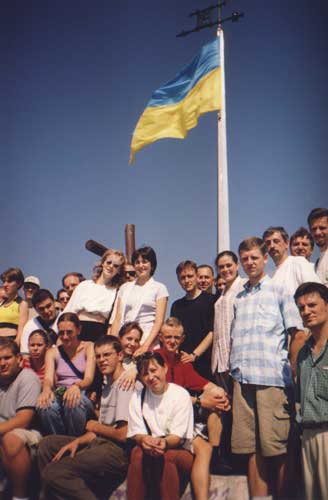 about the history of this "High Castle". One of the most important historical events was the storming and capture of the castle by Maksym Kryvonis during the war of liberation 1649-1654. This event sealed the fate of Lviv, which fell to Kozak Hetman Bohdan Khmelnetsky.
Today, the Vysokyj Zamok consists of the remains of its fortress walls. On its highest point – a cross and a flagpole flying the Ukrainian national flag. From this point the you can view the whole of old Lviv. Following dinner there was a period of free time, during which most participants walked through the historical center of Lviv. During the evening a large group of sumivtsi went to the local football stadium . That evening Karpaty (Lviv) were at home to Kryvbas (Kryviyj Rih). The Karpaty football team and Karpaty FC vice-president Pavlo Pylychuk warmly greeted all Zlet participants before the match. Zlet members were located in a special area inhabited by Karpaty's most fervent fans. Karpaty won the match 3:2, the victory was followed by a salute from the team. For many members of Zlet this was their first attendance a top league football match and enjoyed the passion of the event.
Following the match, in Pohlyantsi, we were entertained by the two Lviv groups, Chornij Veresen' ("Black September") and Dyvni ("Strange")
P.S. - With us on the excursion to the Vysokyj Zamok was one of the first members of CYM in Ukraine, Andriy Sokolov, who is know head of the CYM's Audit Committee in Ukraine. We warmly greet Andriy and his wife Natalia, and congratulate them on the birth of their son Ostap.
---

Lviv: [ Opening Ceremonies | Day 1 Photos | Day 2 | Day 3 ]
On the road: [ Days 3 & 4 (Kalush) | Day 5 Photos ]
Kyiv: [ Day 6 | Day 7 (Kaniv) | Day 8 | Day 9 | More Photos ]
---