International Torch of Remembrance



[Torch of Remembrance | London | Coventry | Derby | Bradford | Rochdale | Ashton | Stockport | Manchester | Nottingham | Tarasivka ]
---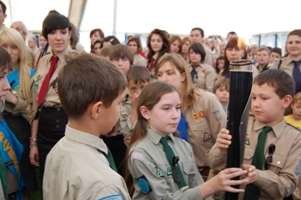 On Saturday July 5 2008, over 1000 people gathered at Tarasivka in Derbyshire, at the Ukrainian Youth Association's 60th anniversary national rally, which was also the culmination of the Torch of Remembrance's journey around Great Britain.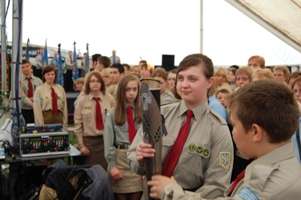 In a moving opening ceremony, Dr Ihor Kharchenko, Ambassador of Ukraine to Great Britain, handed the torch to one of the youngest members of the Association – 5-year old, Chrystyna Tymchyna from Manchester. The torch was then passed in relay down a column of Association members, until 18-year old Myroslava Kochan also from Manchester handed the Torch to the Chair of the Ukrainian Youth Association in Great Britain, Bohdan Prychidnyj. Against a backdrop of ceremonial flags from every branch of the Ukrainian Youth Association, Mr Prychidnyj, using the Torch of Remembrance, lit a candle before Rev Fr Davyd Senyk and the Very Reverend Bohdan Matwijczuk, chaplains to the Association, led everyone in prayers in memory of the 7 million innocent victims of the Holodomor.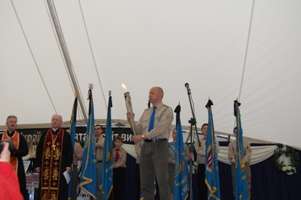 In a short address, Dr Kharchenko said it was particularly appropriate that the Torch was ending its journey amongst Ukrainian children and young people, since over 3 million victims of the Holodomor were children – 25% of all children in Ukraine. Councillor Ann Hood, Chair of the South Derbyshire District Council, acknowledged the importance of the occasion to Ukrainians everywhere, while Mr Mark Todd, MP for South Derbyshire highlighted the Holodomor as a lesson from history which needed to be remembered and learned as well as looking forward to the day when Ukraine would become a member of the EU.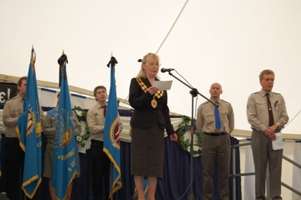 Askold Lozynskyj, President of the World Congress of Ukrainians, and himself a lifelong member and former chair of the Ukrainian Youth Association in America, reminded everyone about the horror of the Holodomor and expressed his conviction that the whole world would one day fully acknowledge that this was an act of genocide against the Ukrainian nation.

At the end of the ceremony, Bohdan Prychidnyj handed the Torch to Zenko Lastowiecki, Chair of the Association of Ukrainians in Great Britain, who together with Dr Kharchenko is now travelling with the Torch to Sweden, the next stop in the Torch's journey around 33 countries of the world. The occasion was filmed by Central TV, who carried a news item about the Torch and the Holodomor on their local news programme on 6 July.