International Torch of Remembrance



[Torch of Remembrance | London | Coventry | Derby | Bradford | Rochdale | Ashton | Stockport | Manchester | Nottingham | Tarasivka ]
---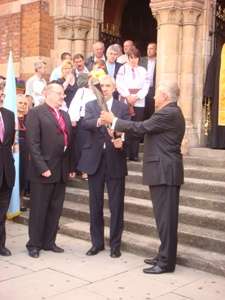 The Ukrainian Ambassador to Argentina brought the Torch to London. The official handover took place on Sunday 29 June at the Ukrainian Catholic Cathedral of the Holy Family in Exile in London's Mayfair, when the Torch was handed over to HE Dr Ihor Kharchenko, Ambassador of Ukraine to the United Kingdom and Zenko Lastowiecki, Chair of the Association of Ukrainians in Great Britain. Over 300 people, including members of the Ukrainian Youth Association and other community organisations, took part in a service dedicated to the memory of the 7 million innocent victims of the Holodomor.

The Torch then travelled across London to the Cathedral of the Ukrainian Autocephalous Orthodox Church where over 150 people took part in a service of commemoration at the Holodomor memorial conducted by Bishop Andriy, Orthodox Bishop for Great Britain and Europe.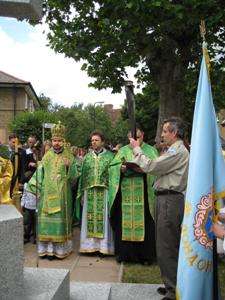 Short speeches from the clergy and guests all underlined the importance of keeping the memory of the victims of the Holodomor alive so that such atrocities could not happen again and doing everything possible to ensure that the Holodomor finally receives its rightful place in 20th century history. Both Ambassadors pledged that, on the basis of documentary evidence which continues to come to light, the Ukrainian government would work with governments around the world, bilaterally and in international fora, to secure universal acknowledgement of the Holodomor as an act of genocide against the Ukrainian nation.

Many speakers referred to the excellent article about the Holodomor that was published in The Times (Monday 23 June, 'The Ukrainian 'genocide by starvation') and a response printed on Friday 27 June from the Russian Ambassador denying genocide on the grounds that other national groups also suffered in the Holodomor, , and accusing Ukraine of using the Holodomor for political reasons. Ukrainians have reacted with both sadness and anger to the defensiveness of Russian government policy, since the campaign for recognition of the Holodomor is a moral and not a political issue.