International Torch of Remembrance



[Torch of Remembrance | London | Coventry | Derby | Bradford | Rochdale | Ashton | Stockport | Manchester | Nottingham | Tarasivka ]
---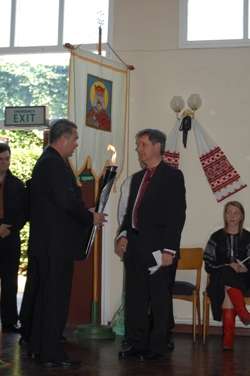 Around 100 members of the Ukrainian community in Stockport, together with the Lady Mayor of Stockport, Councillor Pam King, gathered at the Ukrainian centre to receive the Torch of Remembrance on Tuesday 1 July.

The Torch was accompanied by Bohdan Ratych and Martyn Chymera from AUGB's Holodomor Commemoration Committee, Vladislav Rohiviy from the Embassy of Ukraine, and Askold Lozynskiy, Chair of the World Congress of Ukrainians. The Torch was handed over to Nick Mateszko, Chair of AUGB's Stockport Branch, by Petro Rewko, Secretary of the Ashton Branch. In a moving ceremony, children lit candles to form the shape of a cross, before a short religious service conducted by Very Reverend Josyp Babiy and Bohdan Matwijczuk.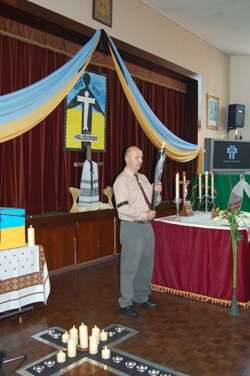 After addresses by Askold Lozynskiy and Vladislav Rohiviy, members of the community read poems and eyewitness testimonies, including some reflections from Malcolm Muggeridge who reported on the Holodomor in 1932, while the Stockport Ladies' Choir 'Lastivka' sang both religious and secular musical pieces. The programme ended with a procession into the grounds, where 7 lanterns – one for each million that starved to death as a result of the Holodomor – were lit and released. The Torch party, together with members of the Stockport community then travelled to Manchester to hand over the Torch to AUGB's Manchester Branch outside Manchester Town Hall.

On the same day, the Stockport Ukrainian community arranged with neighbouring Stockport Grammar school for the Ukrainian flag to be flown and to hold an assembly dedicated to the victims of the Holodomor.