Programs
Weekly Meetings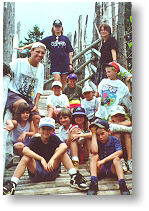 The youth sectors meet weekly participating in a program which includes discussion groups, sport, singing, arts and crafts and field trips. Lectures and discussion groups enamble the youth to broaden their knowledge in areas such as history, geography, literature and traditions. Topics are guided by an annual motto and certain historic anniversaries which are highlighted during any particular year. An important anniversary being marked in 1998 was the 50th anniversary of the founding of the Ukrainian Youth Association in Canada.
Sports


Aside from weekly meetings, the youth have opportunities to participate in various sports by joining volleyball, soccer, baseball, hockey and other teams.
Culture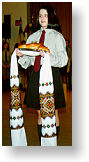 Well developed within the Ukrainian Youth Association to this day is the cultural sphere of activity. Today the UYA takes pride in its male choir, two female choirs, four mixed choirs, two marching bands, four dance groups, bandurist ensemble, drama group and schools which provide instruction in instrumental music and traditional dance.
Camps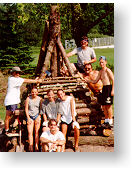 Among the most important educational opportunities are summer and winter camp programs. Both the National Executive and the branches organize camps with varying characteristics appealing to a wide range of youth as well as adult members.
Some camps concentrate on the development of leadership skills, while others are athletic in nature. Educational-recreational camps for youth aged 6-17 are annually organized by branches in Edmonton, Winnipeg, Montreal and southern Ontario. The National Executive organizes leadership camps which help prepare future counsellors for the organization.
Jamborees and Rallies
Among the most popular camps are those held on either a national or international level. Such camps are usually organized in conjunction with special events, most commonly international Olympic games.
Past international camps were organized in conjunction with the following events:
1967 - Expo '67, Montreal, Canada
1972 - Summer Olympic Games, Munich, Germany
1976 - Summer Olympic Games, Montreal, Canada
1984 - Summer Olympic Games, Los Angeles, USA
1988 - Millenium of Christianization of Ukraine, Rome, Italy
1988 - Winter Olympic Games, Calgary, Canada
1992 - Melbourne, Australia
1996 - Summer Olympic Games, Atlanta, USA
2000 - Summer Olympic Games, Sydney, Australia
2001 - VIth World Zlet, Ukraine
Achievements
The accomplishments of the youth are recognized annually during the month of May which is dedicated to a celebration of our youth. The month is traditionally concluded with a spring festival, more commonly known as "Svyato Vesny".