Stepan Bandera Day
On Sunday 24th October 2010, CYM Geelong under the patronage of Stepan Bandera celebrated Stepan Bandera Day in remembrance of the OUN leader. Following a Panakhyda at Divine Liturgy, a bilingual referat was read to those in attendance at the Apel. CYM Geelong opened up the event not only to its members but also the wider Ukrainian community not only to remember Stepan Bandera but for all our Ukrainian heroes who lost their lives in the fight for Ukraine's independence. Druh. Marko Tkaczuk showed video clips of the work of OUN and the life of Stepan Bandera.
Geelong AGM - August 2010
Oseredok CYM Geelong im. S. Bandera held their Annual AGM on Sunday 15th August 2010. Following Divine Liturgy and an Apel and some light refreshments, druh. Mark Tkaczuk presided and opened the AGM. Outgoing Holova druh. Stepan Tkaczuk took the quorum through a booklet of consolidated zvity, showcasing the last two years of work by the CYM Uprava. Druh. Mark Tkaczuk spoke to the members about the situation regarding the need to renovate the CYM Hall. He explained that the oseredok does not have enough funds to cover the entire expense of the renovations. Further to this, he stated that without their support and help to help fundraise money for this venture, there may be the possibility of selling the CYM Hall. Druh. Paul Kaminskyj has been elected Grants Coordinator specifically for fundraising money for our beloved CYM Hall. We would like to thank the outgoing Uprava for their continued hardwork over the past 2 years and would like to congratulate the new elected members.
The new CYM Geelong Uprava elected are as follows:
Olga Jartym - President
Stepan Tkaczuk- Vice President/ Treasurer
Adam Jartym - Secretary
Paul Kaminskyj – Grants Coordinator
Sonia Tkaczuk - Dancing Co-ordinator and Hall Hire administrator
Mark Tkaczuk - Education Co-ordinator / Holovnyj Vychovnyk
John Kaminskyj- Organising Committee
Alex Tkaczuk- Hall Maintenance
Rhiannon Kichakov- Functions Coordinator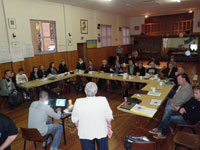 CYM Vykhovnyk Conference
Following a weekend of celebrations for 60 years of CYM in Australia, 25 participants attended the Vykhovnyk's conference in Geelong on Saturday 19th June. The purpose of this conference was to establish a national standard in delivering CYM education to our youth.
View the photos from the event in the:
Krajova Uprava Photo Gallery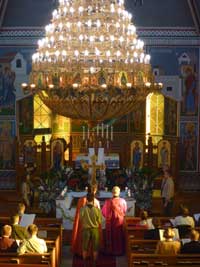 Easter Stijka 2010
On the 3rd April 2010, CYM Geelong during the Easter weekend stood on 'Stijka' to watch over the 'Plaschanytsia'. During our shift, the Yunatstvo enjoyed designing their own pysanky in between turns of standing guard. Education lectures were also attended by our Yunatstvo & Sumeniata. It was highly enjoyable time, with everyone eagerly awaiting the blessing of the Easter baskets.
CYM Deb Ball 2009
We would like to congratulate Geelong CYM members Samantha Astanin and Daniel Tkaczuk for participating in the CYM Melbourne Debutante Ball...
Stepan Bandera Visit To Geelong
This year, all around the world, Ukrainians have been celebrating 80 years and the formation of OUN, 100 years since the birth of Stepan Bandera and 50 years since his assassination. As part of these celebrations, it was organized by OUN, CYM and LVU for Stepan Bandera, the grandson of OUN leader Stepan Bandera, to visit Australia in order to talk about his grandfather in context of Ukraines struggle for Independance. As part of his tour 'down-under', the Ukrainian community in Geelong was fortunate to share a few evenings with Stepan , who's grandfather is the patron of our CYM oseredok. On Wednesday 16th September, a 'meet and greet' was hosted by Hromada and CYM Geelong for all Geelong community members at the CYM Hall, where there were 36 attendees. Stepan Bandera had compiled a presentation outlining his family's history. A good discussion was held after the presentation. Following this, discussions continued late into the night at an informal gathering at the home of one of our members.
CYM Geelong AGM 2009
On Sunday the 2nd August 2009, CYM Geelong held its annual general meeting – this year 'Statutovi Zbory'.
CYM-Plast Winter Ball
What another fantastic night for a good old-fashioned Zabava! Saturday the 20th June 2009, the youth of CYM Geelong and Plast Geelong organised their annual Zymova Zabava
CYM-Plast Geelong 2008 Snow trip
For the 5th year in a row, thanks to the sponsorship of Dnister Credit Co-op, CYM and Plast were able to organize a combined youth trip – this time to the snow.
CYM Geelong AGM 2008
Oseredok CYM Geelong im. S. Bandera held their Annual AGM on Sunday 3rd August 2008.
Zymova Zabava 2008
On Saturday 5th July 2008, CYM Geelong Youth in conjunction with the Youth of Plast Geelong held a Zymova Zabava evening in the CYM Hall as a fundraiser for the upcoming Snow Trip. It was a highly successful night for all the committee with an attendance of approximately 70 people, who all enjoyed the night!
Easter Stijka 2008
Annually, CYM Geelong during the Easter weekend stands on 'Stijka' to watch over the 'Plaschanytsia'.
Ziizd Druzhynykiv CYM in Geelong Friday 28th to Sunday 30th March 2008
On Friday evening 28th of March, CYM Druzhynyky from Perth, Sydney, Melbourne and Geelong gathered to kick-off their annual Australia wide gathering 'Ziizd'. The theme for this years Ziizd was "Leadership and Politics'.
CYM Family Day 2008
On the 2nd March 2008, CYM Geelong held its annual Family Day – this year at Lake Jubilee near Daylesford.
GEELONG CYM/PLAST MURRAY RIVER BÎŔT TRIP 2007
On the 4th of October, sumivsti and plastuny from Geelong, along with parents and friends, set off on a 4 day boating trip down the Murray River.
Moving Feetures
Between February 19-23 2007, CYM Geelong Dancing Ensemble Lastivka performed in the cultural extravaganza 'Moving Feetures'.
National CYM Tabir Sydney 2006-2007
During the Christmas break, CYM tabir took place on a National level between the 23rd December 2006 to the 2nd January 2007 at the Sydney campsite 'Hoverla'. Five Starche Junaky & Junachky and 5 Druzkynyky attended from CYM Geelong, and enjoyed the highlights the tabir had to offer.
CYM and Plast Geelong Grampians Weekend
Following on from very successful weekends over the last two years, thanks to the generous sponsorship of Dnister, a weekend of camping and activities was organised by CYM for Starshe Junatstvo of CYM and Plast in Geelong. At 8am on a very grey and cloudy Saturday morning 23rd September, three cars loaded with 13 junaky and junachky headed off to the Grampians.
Molodshe Junatsvo Day-Out
What a fun September school holiday had by members of both Molodshe and some from Starshe Junatstvo from our Geelong oseredok! Not only did members of our Starshe Junatstvo get to go hiking and camping at the Grampians, but our Molodshe Junatstvo were also involved in activities!
Spring Camp CYM Geelong and Melbourne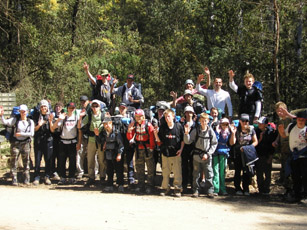 22 Junatstvo from CYM Geelong and Melbourne along with some vykhovnyky and parents, arrived at the CYM camp Karpaty near Buxton, on Friday 15th September -1st night of the Term 3 school holidays. Old friendships were quickly re-kindled and new ones made during dinner and preperation for the two day hike that ws planned for saturday and Sunday.
---
CYM Geelong AGM 2006
Oseredok CYM im. S. Bandera held their Annual AGM on Sunday 6th August Mark Tkaczuk presided and opened the AGM after Divine Liturgy. Fr O. Zenon Chorkavyj led a prayer and outgoing Holova Stepan Tkaczuk took the quorum through a booklet of consolidated zvity, showcasing the last two years of work by the CYM Uprava. There were a few questions and many congratulations and thanks to the outgoing Uprava. A new Uprava was elected and the AGM completed in under an hour, concluding with tea, coffee, cake and sandwiches for all present.
---
CYM Family day


A Geelong CYM Family day was organised for Sunday 19th March. A number of CYM Geelong families took advantage of some great autumn weather, to travel into the Otway Ranges behind Lorne. Leaving Geelong after Divine Liturgy, families met at the Blanket Leaf Picnic Ground. Some lit fires for a BBQ, others laid out delicious picnics. Whilst the adults chatted over coffee, junatstvo headed off for a walk on one of the many trails heading out from the picnic ground.