Celebrating Christmas Eve in Canberra

For Ukrainians, Christmas (Rizdvo) is a very important time of celebration which is observed according to ancient customs that have come down through the centuries from our ancestors to the present day.
On Sunday 7 December 2008, the Ukrainian Youth Association of Australia, Oseredok Canberra-Queanbeyan observed these beautiful Christmas traditions with "Kolyadky with Traditional Ukrainian Christmas Eve Food". The event was attended by CYM members, family, friends and the parishioners of the Parish of Saint Voldomyry.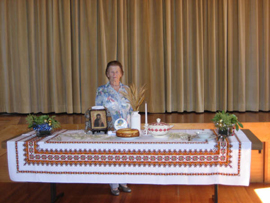 On Saturday, 6 December preparations commenced at the hall of the Ukrainian Catholic Centre in Lyneham, Canberra. This included the decoration of the hall and the cooking of the traditional food for Ukrainian Christmas Eve courses.
The spirit of Christmas was strong on Sunday. The central table had been decorated to represent a traditional Ukrainian table for Sviata Vercheria. It was covered with an embroidered tablecloth, a white candle, a kolach, didukh and a ceramic from Ukraine. Straw was scattered across the table to remind guests of the Manager in Bethlehem. Additionally, there was an Icon of the Blessed Virgin and Child which was draped with an embroidered runner.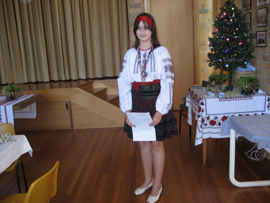 One extra place setting was laid out in honour of deceased family members.
A Nativity scene was placed in front of the Christmas tree and the tablecloth was scattered with straw. The tables for family, friends and guests were nicely decorated with tablecloths, candles and flowers.
Father Oleh Stefanyshyn, blessed the food, after which everybody sat down to enjoy these delicious Ukrainian dishes.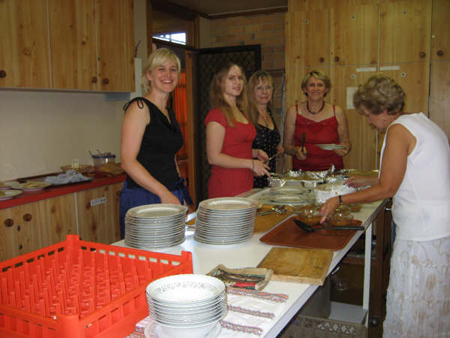 The first dish offered was the traditional kutya, followed by borsch, varenyky, cabbage, salads, tortes, tea and coffee.

To inform the guests, starsha yunachka Nadya Dzhydzhora spoke beautifully in Ukrainian about these special and enduring traditions. As a gift from the Oseredok to our guests, everyone received an information leaflet about Ukrainian Christmas traditions, which also included recipes for kutya and borsch.

The meal was followed by the singing of the beloved Ukrainian Kolyadky, which added to the atmosphere.

Then, all too soon, this special day came to an end.
The Uprava would like to thank everyone who came to our "Kolyadky with Traditional Ukrainian Christmas Eve Food". We extend our special and sincere thanks and appreciation to our CYM members, family and friends for their hard work and generosity which enabled us to recreate a small part of Ukraine in Canberra.

Marusya Jacyshyn & Sonya Heaney
Oseredok CYM Canberra-Queanbeyan