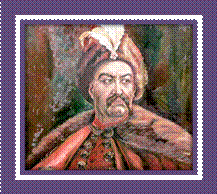 Hartuys!

Cleveland CYM -
Hetman Bohdan Khmelnytsky Branch
Welcomes YOU!


---
Hartuys Podruhy and Druzi! The Cleveland CYM Taborova Komisiya (Camp Committee) invites youth between the ages of 6-17 to attend the 2012 Vykhovno-Vidpochynkovyj Tabir (CYM Camp) at Oselia Khortytsya in Wellington, OH from July 15 – July 29, 2012.
---
Calendar of Events 2011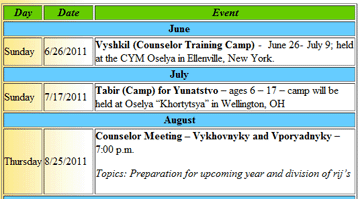 ---
Hartuys! Podruhy and Druzi — Its Time for TABIR!!!! (camping) Cleveland's Taborova Komisiya would like to welcome everyone to the 2011 Vidpochynkovyj Tabir to be held at Oselya "Khortysya" from July 17 – July 31st.
---
Debutante Ball – 60th Anniversary
CYM in Cleveland
Please visit us:

Ukrainian American Youth Assoc
Cleveland Branch
7425 W. Pleasant Valley Rd.
Parma, OH 44130
Or Phone:

(216) 536-2105
Or Email:


Cleveland@cym.org