Ukrainians descend on Glasgow for Ukraine-Scotland Football Match

By Christina Maria Paschyn

Kilts may still be the hot thing to wear in Scotland, but on Oct. 13th a new fashion craze hit the streets of Glasgow: red boots and embroidered shirts.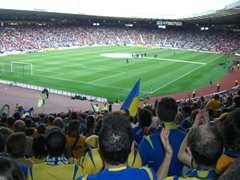 More than 300 Ukrainians from Europe and North America descended on the city to watch the Ukrainian national football team play against Scotland in the UEFA Euro 2008 qualifying match.

Although Scotland won the match 3-1, the Ukraine fans still managed to stun the crowds at Hampden Park stadium.

Dressed in bright yellow Ukraine football jerseys and traditional costumes, the small group stood out amidst the more than 50,000 kilt-wearing Scots surrounding them.

Throughout the match the Ukrainian diaspora members waved massive blue-and-yellow flags and sporadically broke into song, belting the popular Ukrainian tune "Chervona Ruta" at the top of their lungs.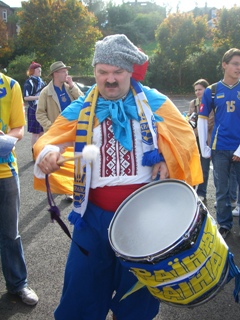 Keeping the group's rhythm was Volodymyr Hnatiw, 41, from Coventry, England.

Known as something of a legend in the Ukrainian-European community, Hnatiw marched into the stadium dressed in a full Kozak outfit with blue "sharavary" and a wool Taras Bulba-like hat.

And with a Ukrainian flag draped over his shoulders, "Mr. Baraban" - as he is nicknamed by adoring Ukraine fans throughout the continent - also had his famous drum in tow.

Hnatiw led the group in chants and cheers, including their favorite rallying song of the day, "We're Not Russian, We're Ukrainian." And whenever a lull hit the Ukrainian section, his loud drumming renewed their passion.

"The main reason I do it is to promote Ukraine…to leave a little mark of Ukrainian culture," Hnatiw said, explaining what first motivated him to become Mr. Baraban.

"I had seen drums in the World Cups…Brazil, Spain, Scotland - they all had them. And I thought that one day Ukraine will be in the World Cup and I'll bring the drum."

The poor performance by captain Andriy Shevchenko and team Ukraine, whose sloppy defense allowed Scotland to score two goals within the first 13 minutes of the match, didn't seem to bother much of the Ukrainian diaspora.

Indeed, at times they seemed more content to show off their shiny red and black sharavary to inquiring Scotsmen than to watch Ukraine miss yet another goal.

"I just love the atmosphere and the community here, but Ukraine as usual has let us down," said Chrystyna Chymera, a third-generation Ukrainian Brit from London, who wore a "vinok" and a red-embroidered blouse under a blue "zhupan."

"They [the team] have the skill and talent, but they're lacking national pride and the desire to do it for their country."

Still, 23-year-old Chymera hopes the diaspora presence at the game has inspired the team – and the fans – to give it their all the next time around.

"When you go to Ukraine to watch a game, there are no songs, it's all male dominated and nobody wears costumes," she explained. "But I think we've opened the eyes of the actual Ukraine fans."

Larissa Paschyn from Cleveland could attest to that. The 22-year-old said she got so much attention from supporters from Ukraine that she struggled to make it to her stadium seat on time.

"All these Ukrainians from Kiev wanted to stop and take pictures with me," said Paschyn, who paired a Burberry plaid kilt with red Ukrainian dancing boots. "I think they were really impressed at how we were all dressed. It's like they had never seen anything like it before."

But the match had a slightly different appeal for Taras Jaworsky, 47, who is no newcomer to Ukrainian football. The Chicago resident has organized annual international football trips for Ukrainian Americans since 1999.

And for the 13 Ukrainians he brought this year, Jaworsky knew that one 'sight' would be an easy sell:

"When I entice someone to come on a trip with us, I always bring up the fact that you should see the Scottish-Ukrainians because of the kilts – it's a landmark."

Meet the Scukes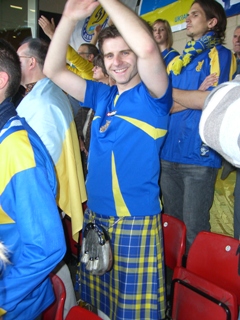 It's a comment that Alex Demianczuk never gets tired of hearing.

"It's true, a lot of people say they just never knew there were Ukrainians in Scotland," he said smiling with pride.

This second-generation Scottish Ukrainian - or "Scuke", as they were dubbed by the Scottish media in the days leading up to the match - could well be considered the face of the Edinburgh's Ukrainian community.

At age 27, Demianczuk has followed the Ukraine national team from Kiev to Copenhagen. And in 2005 and 2006 respectively, he and several other Ukrainian-Brits traveled to America and Australia to partake in international Ukrainian diaspora football tournaments.

Throughout his travels, Demianczuk has promoted his unique heritage by wearing a blue and yellow plaid kilt that he had specially made for Ukrainian functions.

"As you can imagine, I get asked to take a lot of photographs."

Now as club secretary of the Edinburgh branch of the Association of Ukrainians in Great Britain (AUGB), Demianczuk spent the past six months organizing tickets for visiting fans and planning a "zabava" (dance) to show "Ukrainians around the world that Scottish Ukrainians know how to throw a good party."

If you ask 41-year-old Cleveland Ukrainian Andriy Futey, the community pulled it off:

"I really have to give big kudos to Scotland. They are probably the smallest in numbers and it was a large burden, but they really did a fantastic job."

Going to the Ceilidh (Party)

Thanks to the Edinburgh Ukrainians, the supporters were escorted by bus from Edinburgh to Glasgow, where their first stop was a local Scottish social club hired especially for the day.

The Ukraine fans wasted no time beginning the festivities. And after hours of mingling and making new friends, they danced an impromptu "kolomyika."

"The Scottish fans like to party and so do Ukrainians in general who have been brought up in the zabava culture," said Demianczuk, who wasn't surprised at how easily everyone socialized. "You combine these two nationalities and you get one big party."

But when they arrived at the stadium, the Scukes had a more difficult time getting into the spirit of the game.

"I just felt weird watching it, not being able to support both teams," said 30-year-old Lesia Demianczuk, who is Alex Demianczuk's sister. The self-described die-hard Scotland fan showed her love for both teams by wearing a green and white plaid kilt with matching ribbons on her vinok. "When Ukraine scores you're cheering, but its tough."

Their internal struggles subsided however when the fans returned to Edinburgh for the night's zabava.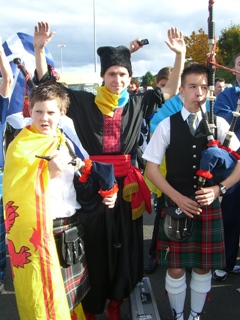 Featuring the music of a young Ukrainian band from England, Chorna Roza, and performances by the Hoverla Ukrainian dance troupe from Derby, England, the Ukrainians danced the night away, stopping only for a charity raffle.

The prizes included a Ukraine football shirt signed by Shevchenko and football balls signed by the national team; the proceeds will be donated to orphanages in Ukraine.

For Chicago Ukrainian Marianne Diachenko, 44, she couldn't have asked for a better vacation.

"Scotland makes me feel like I'm back in Chicago," she said. "I just think it's the commonality that we're Ukrainian – it's the patriotism."

And she alluded that Jaworsky was right - one thing in the Scotland community really did stand out for her. But it wasn't the kilts:

"There's nothing sexier than a Ukie-Scottish accent."

When told about that comment, Alex Demianczuk couldn't help but blush.

"What can I say," he said laughing. "We really do have the best combination."

Reprinted with permission from The Ukrainian Weekly (U.S.A.), Sunday, October 21, 2007. (website: www.ukrweekly.com)
Photographs courtesy of Christina Maria Paschyn