Nadia Stefyn Receives Antenna Awards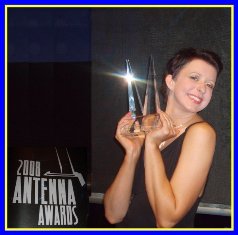 Nadia Stefyn, member of the UYA Melbourne branch, has won national 2008 Antenna Awards, which were held at the BMW Edge Federation Square on Thursday 24th April and broadcast nationally on community television on Sunday 27th April at 7.30pm (Channel 31 in Melbourne, Adelaide and Perth, TVS in Sydney, BRIZ in Brisbane).

Three awards for Best Lifestyle Program, Best Editing and Program of the Year went to 'Making the Switch', a series on sustainable living produced for Channel 31 by 24-year-old Nadia Stefyn.

Nadia, who is a member of the UYA, completed Year 12 LOTE Ukrainian at the Ukrainian Community School in Noble Park and majored in Ukrainian and Drama at Monash University, is an active member of the Association of Ukrainians - Noble Park branch.

The Antenna Awards recognise the passionate contribution of the community television sector from across Australia. They bring together the many varied communities that make up community television in Australia and celebrate the community's cultural interests, concerns and perspectives as well as the role community television has to promote diversity and harmony.

http://www.c31.org.au/antennas/antennas_winners.php

The National Executive of the Ukrainian Youth Association of Australia extends its congratulations to Nadia and wishes her every success in the future!