Melbourne Holds Annual General Meeting
The Ukrainian Youth Association in Melbourne held their annual general meeting on Sunday September 8, 2002 at the Ukrainian Catholic Cathedral hall in North Melbourne.
Dr. Christina Moravski heads the committee elected to hold office for the forth- coming years.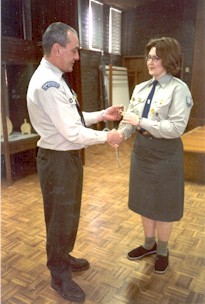 The new committee consists of:
President
Christina Moravski
Vice President
Greg Moravski
Principal Education Officer
Tatiana Zachariak
Youth Coordinator
Natalie Soloczynskyj
Secretary
Paul Seniw
Secretary
Juliana Moravski
Treasurer
Anna Polatajko
Cultural Affairs Coordinator
Sonia Van de Camp-Moravski
Membership Organising Coordinator
Christina Bell
Membership Organising Coordinator
Marusia Janyshyn-Jury
Dryzhynnyk Coordinator
Stefan Moskaljuk
Uniform Coordinator/
Assistant Membership Organising Coordinator
Melissa Mykytiuk
Outdoor Education Property Coordinator
Peter Romanyk
Media Correspondent
Lubomyr Lawriwsky
Of note is the fact that Christina is not only young, but also the first female to hold such a position in Melbourne. Under her stewardship the committee is determined to create a successful term of office. They warmly invite everyone to a fun filled night of merrymaking at the "Cossack Cabaret" night to be held on October 12, 2002. All are welcome to a night of dancing, Ukrainian meals and a traditional Ukrainian floorshow (and if you keep an eye out you may even spot our Christina performing herself). For more information, click here. Hope to see you all there to celebrate our new venture.
Media Correspondent
Lubomyr Lawriwsky