20th National Conference of the UYA in Australia…. – New National Executive elected…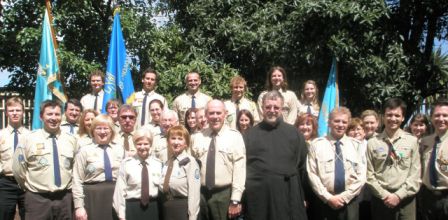 The triennial National Conference of the UYA of Australia was held from 14th to 16th November, 2008 in Melbourne. The proceedings were chaired by Mr Stefan Romaniw OAM (1st Vice President of the UYA's international parent body, Chairman of the Australian Federation of Ukrainian Organisations, and the newly elected General Secretary of the World Congress of Ukrainians). Minute takers of the conference were Juliana Moravski and Katya Ostrowsky. Guests at the conference included Symon Kohut - national president of Plast - Ukrainian Scouting Organisation in Australia, the Rev. Mitrat Oleksander Kenez – Chancellor of the Eparchy of the Ukrainian Catholic Church in Australia, and Messrs Jaroslav Duma OAM, and Marian Tkaczuk.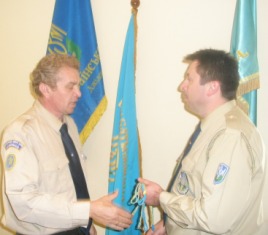 The conference was opened by the outgoing President, Mr Wasyl Senko with a traditional apel, and the singing of the UYA anthem. Delegates, representing almost every UYA branch in Australia were provided with a detailed report of the activities of the outgoing National Executive. Special mention should be made of the many activities of Druzhynnyky (under the charge of Mark Tkaczuk), and the Orhanizaczijna Referentura (Stephen Duma), in ensuring that membership issues and applications were consistent in all branches nationally. Further, the review of a National Constitution allowing for the ultimate registration of the UYA in Australia was also a detailed project throughout the term of the Executive. Other noteworthy national events included workshops and conferences of the Education Council and the CYMnet directorate. The active participation of a large number of UYA members in last summer's national youth camp, organised under the auspices of the AFUO, was also noted. Over 500 participants (primarily from CYM and Plast) took part in an 8-day programme at the Plast Sokil site, near Geelong (Victoria), under the leadership of Peter Duma.
Discussions surrounding the need to register the UYA in Australia ,and therefore accept a new constitution, resulted in agreement that all branches should further review the proposed draft constitution and be in a position to proceed toward its acceptance at a proposed Extraordinary Meeting of the UYA, scheduled for June 2009.
The Nominations Committee (chaired by Andrew Lech) proposed the following members to the National Executive: President – Peter Duma; Members – Paul Kaminsky, Stephen Duma, Peter Valega, Andrew Duma, Stephan Moravski, Jaroslav Duma, Hania Seniw, Katerina Kobryn, Natalie Moravski. The National Audit Committee Chairman – Roman Zachariak, with members Anna Polatajko and Iryna Kondarewycz, and the National Grievance Committee to be chaired by Michael Moravski, and members Odarka Brecko and Marusia Jacyshyn.
At the conclusion of the conference, the newly elected National Executive held a short meeting to implement and discuss the roles of each member, as well as outline a broad overview of the future direction of the UYA in Australia.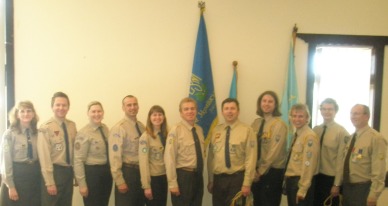 National Executive of the UYA of Australia
President
Peter Duma
First Vice President/Referent Druzhynnykiv
Paul Kaminskyj
Second Vice President/ Organisational Director
Stepan Duma
Chair of the National Education Council
Hania Seniw
General Secretary
Jaroslav Duma
Treasurer
Peter Valega
Press and Marketing
Stephan Moravski
CYMnet
Andrew Duma
Youth Activities
Katerina Kobryn
Cultural Affairs
Natalie Moravski