Chester Hill resident Christina Parasyn joins marathon swimmer Tammy Van Wysse in being awarded the prestigious Tom Harvey Award for Citizenship. Christina received the award in recognition of her work in promoting development in Australia and in developing countries.
Australia Youth Trust Chairman Sir Ian Turbott AO CVO CMG and the Governor of New South Wales, Her Excellency Professor Marie Bashir AC presented the award to Christina on 8 March 2004 at Parliament House in Sydney.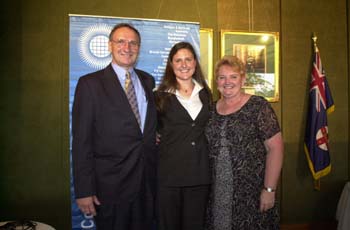 Christina has always been enthusiastically involved in her community, as an active member of the Sydney Ukrainian community and Ukrainian Youth Association of Australia group leader. She has also been working with others actively identifying and addressing the issues affecting Ukrainian youths by developing a Youth Roundtable.
Through the AusAID funded Australian Youth Ambassador for Development program, Christina has also done some outstanding work in the Maldives in South Asia. The Republic of Maldives is a chain of ecologically fragile atolls the Indian Ocean, south-southwest of India.
In Maldives Christina put her experience as an occupational therapist to good use, working with local non-government organisation, Care Society to help increase the rights of people with disabilities.
'Disability services are still very young in Maldives. They officially started in 2001 and are centralised in the capital city of Male,' Christina said.
'The aim of the Care Society's work is to extend community based rehabilitation services to the remaining 199 inhabited islands of Maldives and to help increase the broader community's acceptance and appreciation of disabled people.
'Care Society has already implemented Community Based Rehabilitation workshops in three island communities with the primary aim of raising awareness of the value and rights of people with disabilities.
'This has been a great success and on a personal level I've learnt a lot from the experience.
'Working with Maldivian communities has developed my knowledge and skills and made me much more aware of the valuable ways that Australia is working with our Asia-Pacific partners through its overseas aid program.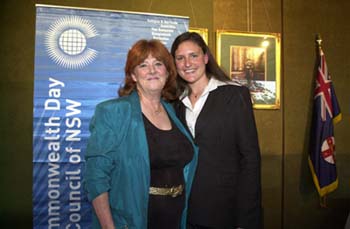 So where to here for Christina?
'My aim is to continue using my knowledge and experience in the development sector,' Christina said.
'I am confident that my experience will also stand me in good stead in all that I undertake in my Ukrainian and Australian communities.'
Click here to view some background information about the award...
Thanks is given to AusAID (Australian Agency for International Development) for the story and the NSW Department of Education for the photos.