Ukrainian Arts Camp a hit at CYM in Ellenville!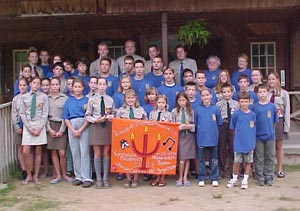 For the last two weeks of August, 30 children from all over the eastern United States, including a dozen children from the Ukrainian embassy in Washington D.C, and Ukrainian Consulate in New York City, enjoyed two fun-filled weeks at the Ukrainian American Youth Association's (CYM) Ukrainian Arts Camp in Ellenville. This camp is dedicated to the preservation of Ukrainian culture and tradition.
Participants had a variety of arts and crafts to choose from. wood carving, pysanky (decorating of Ukrainian Easter eggs), painting, gerdany (beadwork) and Ukrainian embroidery. Dancing and singing were also included in the program as mandatory activities for all.
This year, the children also enjoyed a traditional Ukrainian mock wedding in which two camp counselors were married. The participants also had the opportunity to visit a water park for their camp field trip.
Two weeks of hard work and practice culminated into a final performance on September 1, when all the participants of the camp were able to show their parents and the Ukrainian community the skills they were taught during their camp. The children performed at the "50th annual CYM Zdvyh and Festival" in Ellenville, NY. The show consisted of the following dances: "Plaskach," "Karpaczkyj" and the "Hopak." The children also performed six vocal songs accompanied by the bandura.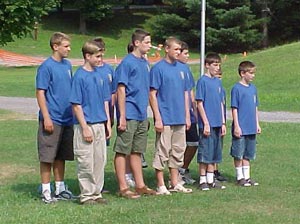 Instructors for the camp included David Odomirok (dance choreographer), Oksana Tabatchouk (embroidery and woodcarving), Olesia Bondar (painting), Maria Iwaskiw (gerdany), Irene Grassmann (pysanky), Oksana Tomashevsky (dancing) and Nadia Vatamaiok (song, bandura instruction). The komanda included Walter Wyrsta , Maria Wyrsta, Roman Iwaskiw, Danny Pushchak, Katherine Wyrsta, and Michelle Odomirok.
Overall, this year's camp was a huge success! Participants were given a standing ovation at the end of their performance, giving all a big reward for a job weel done. We wish al participants a great school year and look forward to seeing you at Ukrainian Arts Camp next year in Ellenville, New York!
Check out more photos!