The 38th Annual Debutante Ball
Crowne Plaza, White Plains
On Saturday, February 9, 2002, the thirty-eighth Annual Debutante Ball sponsored by the Ukrainian American Youth Ass'n took place at the Crowne Plaza in White Plains. Twelve lovely CYM Debutantes were escorted and partook in the elegant evening.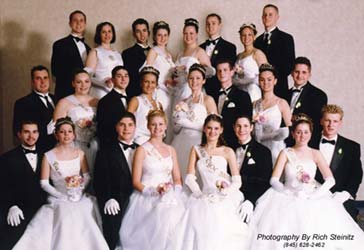 The evening began with a poolside cocktail party where the attendees of the Debutante Ball mingled and socialized. The cocktail social was followed by a banquet. Presiding over the evening were the Masters of Ceremony, Jaroslaw Palylyk and Lida Mykytyn. They had the honor of introducing the Debutantes and their escorts, present the interests and accomplishments of the Debutantes, and set the stage for each Debutante to be met by her parents and be introduced to the Ukrainian society. During the banquet, the Debutantes and their escorts performed a quaint Viennese waltz, choreographed by Hryhoriy Momot. They were greeted by Father Bohdan, who inspired the Debutantes and their escorts with his warm wishes and blessings.
The banquet smoothly transitioned into the zabava. The zabava filled up quickly with many youth, good music, romantic waltzes, an exciting kolomeyka and lively rock and roll. The orchestra, "Zolota Bulava", entertained the entire evening. But all good things must come to an end. It was time to part until the next event.
The Ball is a special event for each Debutante. It is a highlight in her CYM life as well as a pleasant memory in her personal life. The Ball is also a joyous event for the parents of the Debutantes as well as for CYM, the organization in which these Debutantes grew up. Both the parents and CYM get to step back and realize the fruits of a Ukrainian upbringing and witness the transition of each Debutante into an active, contributing member of the Ukrainian community.
The honored guests of evening were the following Debutantes: Ulana Blahy escorted by Michael Pawliwsky, Andrea Bybel escorted by Wolodymyr Yurcheniuk, Katrusia Wyrsta escorted by Danylo Pushchak, Lesia Harhaj escorted by David Odomirok, Anna Zarovniy escorted by Stephan Frytz, Tania Zajac escorted by Roman Iwaskiw, Olha Kryzhalkiw escorted by , Chrystyna Lesiuk escorted by Wolodymyr Wyrsta, Stephanie Pushka escorted by Mathew Wodzinsky, Roksolana Stets escorted by Hryhoriy Yasynsky, Christina Charuk escorted by Taras Czebiniak, and Oksana Czebiniak escorted by Stephan Ros.