Sylvia Hyra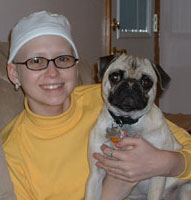 On Sunday March 16, 2003 the Ukrainian Center, the Ukrainian American Youth Association (CYM), and the Organization for Lemkivschyna (all of Passaic) hosted "Sylvia's Brunch for Hope and Blood Drive for Life." The blood drive was conducted by the Bergen Community Blood Services of Paramus. Nearly two dozen people donated blood.
The brunch was made possible thanks to the generosity of the following merchants who donated a variety of goods from milk and donuts to bagels and coffee: Colonial and Van Houten Pharmacies of Clifton, Parmalat USA, Polonia Meat Market of Clifton, Banas Bakery of Wallington and Krystyna Bakery of Garfield. There were also over twenty gift certificates that were donated that were raffled off at the brunch.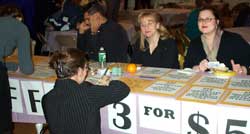 The event was greatly successful in raising almost $15,000 for Sylvia Hyra. Sylvia is a 14-year-old girl who is afflicted with leukemia and in need of a bone marrow transplant. She was born on March 12, 1989 and is the beautiful daughter of Pawel and Teresa, sister to brother Christian, loving pal to canine friend Mishu, and granddaughter of Stefan and Maria Kapitula. The family resides in Clifton, NJ where Sylvia attends Woodrow Wilson Middle School. She is a member of the UAYA in Passaic where she has enjoyed Ukrainian dancing for many years. She also loves children, animals, skiing, and is described as fun loving, mature, intelligent and laid back.
Her battle began in September of 2001, when she was diagnosed with osteosarcoma, a type of bone cancer beneath the knee. This life threatening cancer occurs in only several hundred patients per year. Sylvia had 12 hours of surgery at Memorial Sloan Kettering (MSK) in NYC to remove the actual tumor. During this surgery, four inches of her leg bone beneath the knee was removed and replaced with donated bone. This bone was inserted and affixed with plates and 13 screws. Sylvia later required three additional emergency surgical procedures to restore blood flow in her leg. The surgeries were followed by six additional months of chemotherapy and intensive physical therapy. Sylvia was cancer free in August 2002.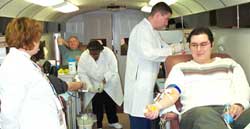 In November 2002 Sylvia was experiencing some abnormal bruising. An immediate visit to MSK confirmed the bad news. Sylvia became afflicted with Acute Myeloblastic Leukemia, a rare side affect of the chemotherapy that was treating her bone cancer. Sylvia's bone marrow had no healthy cells left. Chemotherapy was started immediately to destroy her unhealthy bone marrow. Her leukemia is now in remission, and a bone marrow match has been found for her transplant. This operation is the only treatment and hope for a cure.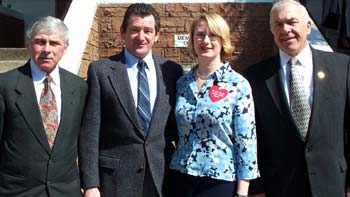 The costs of Sylvia's treatments are staggering. The Hyra family's friends and family have united in an effort to support them in raising funds to cover the costs of these expensive treatments. We are requesting your charitable contribution and support in achieving our goal to raise the $100,000 needed to cover her medical expenses.
Sylvia is a very young girl, and deserves a fair chance at a good, long, healthy, and prosperous life.
Every dollar and kind deed counts towards achieving this goal.
You are welcome to share in being a part of her success in beating this disease.
Please make checks payable or send donations to:
"COTA for Sylvia H."
2501 Cota Drive
Bloomington, IN 47403
Or for more information log onto www.cota.org
Click onto patient campaign letter "S" for Sylvia