CYM Philadelphia Goes Caroling
On December 27th, 2001 - the day of the Feast of St. Stephen, Protomartyr - members of the CYM branch in Philadelphia (named after the Ukrainian Insurgent Army - UPA) visited Most Reverend Metropolitan Stefan Soroka and retired Bishop Walter Paska and brought with them a host of Christmas Carols. This was a most joyous occasion, as not only did the children proclaim the Feast of the Nativity by singing Ukrainian Carols, but they offered Metropolitan Stefan best wishes for health, prosperity and peace in the coming year on his Feast Day!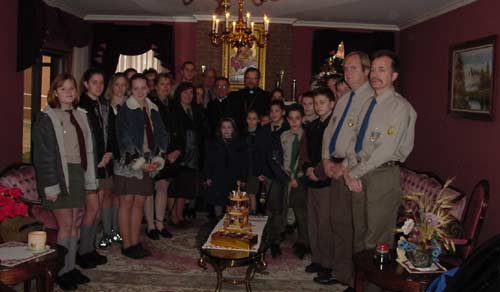 Metopolitan Stefan and Bishop Walter thanked the children and offered them refreshments and sweets for their koliada. We were even more pleased when Metropolitan Stefan informed us that we were the first group of carolers to visit his residence!
Myron Soltys