CYM Cycles for Ukrainian Medical Relief
Early in May, young Ukrainians of the Goshen, New York branch of the Ukrainian American Youth Association (CYM) conducted a cycling fundraiser for Ukraine's medical community. Preceding the event, the children enlisted individual sponsors from the local community, each of whom pledged a dollar amount per mile that the children would travel.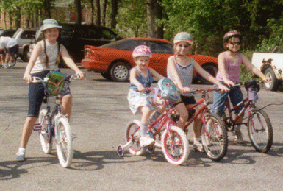 On the day of the Wheel-a-thon, each child strove to cycle as many miles as possible, knowing that the proceeds were destined for CYM's Emergency Medical Aid for Ukraine (EMAU) fund.
Together with their parents, the children started their trek in the town of Goshen, which is located approximately 75 miles northwest of New York City.Goshen is home to the start of the Orange County bicycle path, designed for cyclists and sporting enthusiasts.The path leads into the neighboring town of Monroe (best known as the birthplace of Velveeta cheese!) Cycling along the designated path and stopping at predetermined checkpoints to register their mileage, the group of sumivtsi progressed admirably. Since the ages of the children varied greatly (from 3 to 13), so too did their accumulated miles at the end of the day - ranging from 3 miles for the youngest, to 9 miles for the older youths!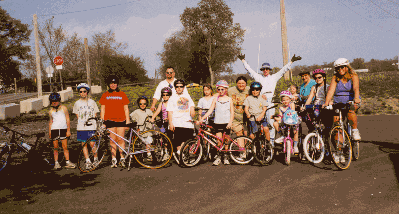 Taking part in the fundraiser were: Ivanka and Oksana Bihun, Viktoria Dolichny, Andrij and Danylo Kobyleckyj, Tanya and Mykhajlo Pawlyk, Tanya Prymak, Bohdanna Sadnytzky, Anna and Mykola Stroynick, and Stefanie Vazeos. Sponsor contributions totaled over 800 dollars for the Emergency Medical Aid for Ukraine fund!
For the past eight years, CYM's EMAU has been successful in initiating and completing several major medical projects in Ukraine, supplying not only necessary equipment (costs equaling several million dollars), but also the necessary ongoing medical support. EMAU has been successful in integrating doctors and nurses from American hospitals to volunteer their time to travel with the new medical equipment to Ukraine and pass their knowledge on to the medical staff in Ukraine. The support system, along with the medical equipment, has substantially upgraded the medical institutions throughout Ukraine and has positively altered the lives of many ill Ukrainians.
Donations, questions or comments can be referred to the coordinators of EMAU:
Roman & Hania Dashawetz
EMAU-Medical Relief Fund
22 West Split Rock Drive
Cherry Hill, NJ 08003
USA