Exchange Program - Vykhovnyky and Vporiadnyky
U.S. and Ukraine - summer 2010
---
It Was Much Harder Than I Thought. I Can't Wait to Go Back.
Kristine Bihun, et al.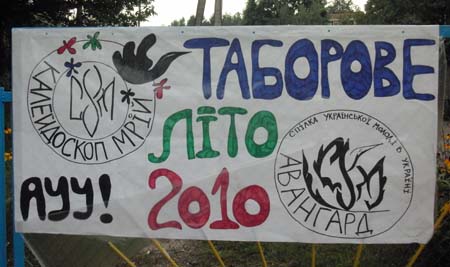 A new and innovative program began in CYM in the summer months of July and August of this year, in the form of an exchange program between CYM counselors from Ukraine and the United States. The idea was born during a meeting between CYM members of these two countries, where a need for the exchange of ideas was recognized, so that best practices in the two countries could be more broadly adopted.
In the U.S., ten top performers of the previous year's Counselor Training Camp ("Vyshkilnyi Tabir") were invited to apply for the exchange and take part in a competitive interview process. From among the pool of candidates, four 15 through 17 year olds were chosen: Adrianna Krasniansky and Andrij Drozd of the Cleveland, Ohio CYM branch, and Dianna Wasylyk and Ivanka Bihun from the Goshen, New York CYM branch. In Ukraine a similar competitive process was taking place which in which three counselors were selected: Iryna Lysa of Lviv, Marianna Marets of Ternopil and Ivanka Holubyuk of Ostrih.
The exchange program began in late June, with the arrival of the three Ukrainian counselors at CYM's Ellenville campground, for a two week counselor training camp, followed by a weeklong recreational camp for teens. The three Ukrainian visitors became part of the teaching staff in both camps, observing the program and activities of the camps, and also introducing into the American camps a number of the activities that are popular in Ukraine. After a brief sightseeing tour, the Ukrainian CYM members returned to Ukraine, bringing with them the four counselors in training from the United States. Together they traveled to the village of Shestovytsia, near the city of Chernihiv, to attend a one week Planning and Training camp. Here they began the immersive Ukrainian experience of the visitors from America. At this camp they were instructed on various methodologies, and together prepared a program for the next camp – "Kalaidescope Dreams" – intended for Ukrainian children of ages from 6 to 17. For the following 2 weeks the American visitors helped to conduct a Ukrainian style camp for CYM members in Ukraine, and had an opportunity to introduce many ideas from their own previous camping experiences in the U.S. Here are their thoughts, experiences, and lasting impressions which they would like to share…
---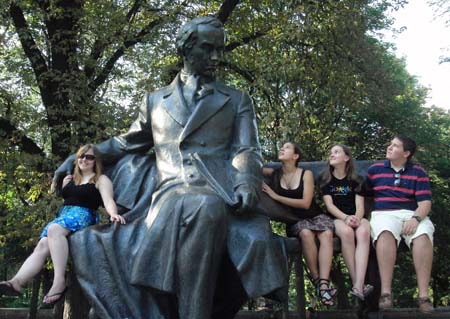 ---
Andrij Drozd - Cleveland, Ohio
During the Ukrainian camps we experienced Ukrainian life. We learned more about the history and culture or our Batkivshchyna (Motherland). Also we had the opportunity to speak our native Ukrainian language with everyone we met. During the camps we all realized that children are children, no matter what language they speak or country they live in - we came to that conclusion because all of the kids liked all of the same activities and pastimes as American children. During camp the children came from Lviv, Kyiv, Ivano-Frankivsk, Ternopil, Octroh, Lutsk, Dnipropetrovsk, and many other cities across Ukraine. During camp we taught the older youth about heroism and what it means to be a hero. This topic was chosen in response to the current heroism crisis (regarding S. Bandera and R. Shukhevich) in Ukraine. Meanwhile the younger campers learned about careers. Each day the younger campers examined a different career. One day during camp, the Ministry of Emergency Situations visited us and explained their job. That ministry oversees the fire department, bomb squad, EMS, and hazardous materials squads. They allowed the children to see their tools and first response vehicles. Through this the youth learned the value of a meaningful career and what it means to have responsibilities. The campers, old and young alike, loved their camping experience.
Overall, my experience in the country of my ancestors was amazing. It was incredible to hear the Ukrainian language spoken every day. Also it helped me make connections with all the things I have learned in CYM about Ukraine. Lastly, this trip made me realize that the people in Ukraine are truly our brothers and sisters.
---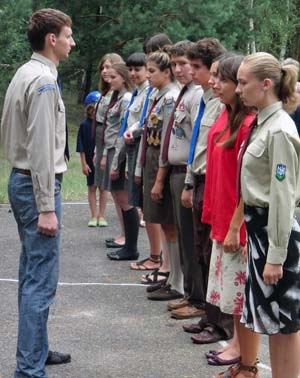 ---
Ivanka Bihun – Goshen, NY
The exchange of counselors this summer was the once in a life time opportunity for me that most people never get to experience. Beneath the unbearable heat (it hit 104 degrees for almost a whole week) and the exhaustion from running after a group of children all day was the knowing feeling that this was exactly the kind of experience that I wanted and needed.
Being in Ukraine for the CYM camps opened my mind to why I am a sumivka – not because I am a Ukrainian in America, or because my parents decided I should be, and not because I want to be with my friends. Being among counselors and educators who choose to be in this organization while still living in their native country made realize that being in CYM does not just mean that you are Ukrainian rather than some other nationality; it means that you not only care about preserving the traditions that were your ancestors', but that you are also fighting for them and striving to protect your country. The fact that the Ukrainian CYM members chose to be at camp, giving up their summers to work with someone else's children without pay gives me hope for Ukraine's future, and pride in being both Ukrainian and a sumivka. I learned so much from all of them, not only about what this organization is all about, but also about how things could be done differently from how I've seen them done my whole life. Their lessons (hutirky) were so creative and interesting that I was shocked and impressed, and believe that I've brought that kind of skill back with me. My first vykhovnyk (full counselor) experience could not have been any better or any more inspiring.
---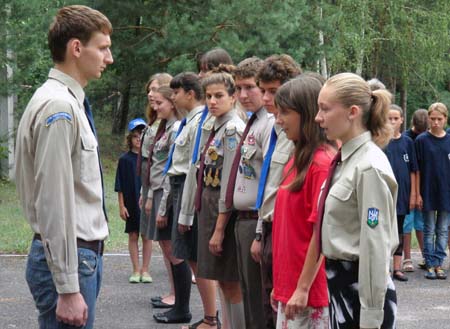 ---
Adrianna Krasniansky – Cleveland, Ohio
In most religions, one is required to complete a pilgrimage. The pilgrimage is meant to instill in the traveler a new sense of awareness, recognition of one's place in the world. Although mandated by doctrine, the pilgrimage most often results in enlightenment more powerful than the religion itself.
However, no Ukrainian Christian religion requires its followers to complete pilgrimages. Atypical of the Ukrainian status quo, I embarked on such a journey this summer. My trip to Ukraine with CYM (in lieu of a pilgrimage never mandated) moved me in ways only a religious experience ever could.
Four active CYM members, ages 15-17, were nominated to attend CYM youth camps in Ukraine. To my excitement, I was chosen and flew to Ukraine the last week in July to attend four weeks of camp counseling. Only days before, I had finished working CYM camps in the United States and wondered how CYM's camp in Chernihiv would compare to those I attended in Ellenville, NY and Cleveland, OH.
Once I and the three other American students arrived at the campsite, we were comforted to see that, despite slight language and culinary differentiations, Ukrainian sumivtsi and American sumivtsi share much in common. Most evident is our shared goal – to work for the glory and benefit of God and our home country Ukraine. However, there are slight variations in our methodology. CYM in independent Ukraine is still a fairly new concept (only 17 years old). CYM there is more politically driven, for its members must fight daily – through the media, at the polls, in schools and the social community – to maintain a free country and establish a fair government. In the United States, on the other hand, CYM is in some ways also a social organization, preserving traditions and history that our Diaspora might otherwise lose to American culture.
Despite these differences, I came to feel at home in this community of sumivtsi from all corners of Ukraine. I comforted young campers suffering from homesickness, which lessened the pain of my own bouts with this disease. I made what I consider to be lifelong friends who shared with me the ups and downs of cranky children, scorching heat, and long nights planning the next day's lesson. Most importantly, I preserved several images of this first return to the country of my ancestors; these are filled with not only architecture and landscapes, but with recognizable friends and inside jokes that separate my memories from generic postcards. I returned home with feelings of accomplishment, optimism, and most surprisingly, homesickness for Ukraine. My CYM family in Ukraine became as important as their counterparts in the States. In the four weeks I spent halfway across the world, I discovered the thread that unites us sumivtsi. Regardless of continent, our aim is the same: we are taught to love "God and Ukraine", a motto that holds true for us all.
A pilgrimage indeed.
---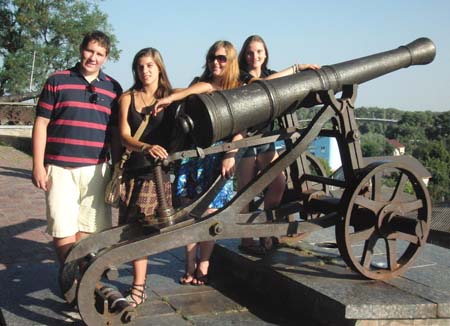 ---
Dianna Wasylyk – Goshen, NY
This summer, I had the opportunity to visit Ukraine and work at a children's camp in Shestovytsia, a small town near Chernihiv. My first thoughts in being invited to take part in this exchange: "How did I get chosen for this when my Ukrainian isn't as good as everyone else's?" I've always wanted to go to Ukraine, but I was worried that I wouldn't be able to communicate with the people because of my nowhere-near-perfect Ukrainian. But this obstacle didn't prevent me from signing up and taking a chance. For the benefit of CYM, I wanted to learn some new songs and games that I could teach young CYM members in America. In essence, I wanted a cultural trade between CYM Ukraine and CYM America. It seemed like an easy task: take what you know, bring it with you, and pass it on. With this in mind, I soon realized that I obviously can't teach everyone everything. I took the best of what I had to offer and headed to JFK with an immense amount of confidence. I thought: "This will be just like Recreational Camp in America. This will be easy!"
Well, it wasn't easy. The language barrier was worse than I had thought it to be, I had to listen carefully, and frequently ask people to repeat what they said slowly – and Ukrainians talk really fast! After a few days of immersion, it became so much easier. I was able to share my love for music with my fellow counselors and then with the children. They loved what I gave them, which even included a song that I wrote for my youth group. When I found out that the girls I was responsible for liked to sing, I knew that my final gift to them had to be a song about our time at tabir. It was something that they could reflect on when they look back at the good times they had during summer 2010.
I left Ukraine with the knowledge that I made memories with children from another country and that I was able to pass on what I learned over the years as a young member of CYM. I left with a much improved Ukrainian vocabulary – still working on the conjugations. I left with some great new material for my CYM branch, and a couple more friends on Facebook. I'm eagerly hoping to have this experience again because I want to learn more songs, meet more people, share and change more lives.
The National Boards of CYM in both the United States and Ukraine have deemed this exchange program a success and worthy of repeating next year, and there is definitely a new group of candidates just waiting their turn to experience the joys of Ukrainian camps.
---
Participant Presentations
---