EUROPEAN PARLIAMENT RESOLUTION ON STEPAN BANDERA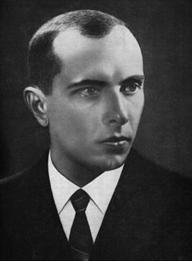 Stepan Bandera (1909-1959) opposed Nazism and Communism and led movement for a free Ukraine until he was assassinated in 1959 by the Soviet KGB.

Many of you will already be aware of the resolution adopted by the European Parliament on 25 February about the situation in Ukraine, and the amendment which was added by a group of MEPs 'deploring' the award of the title 'National Hero of Ukraine' to Stepan Bandera and hoping that President Yanukovych would reconsider that award. It also referred to Stepan Bandera as a Nazi collaborator.

The amendment was tabled by various parliamentary groups, including the Social Democrat grouping and the Conservative grouping. One of the sponsors was Dr Charles Tannock, a London MEP who has previously supported the process of Ukrainian democratisation. He is the foreign affairs lead for the European Conservative Group.

KY CYM draws your attention to the recent letter sent by Svitova Uprava CYM to the European Parliament – and is extremely disappointed at the stance taken by the European Parliament and its attempt to rewrite Ukrainian history. Further information on the issue of the European Parliament's resolution on Stepan Bandera can be found by visiting AUGB's webpage.

Stefan Romaniw leader of OUN has also sent a letter to the European Parliament. A Ukrainian translation of the letter can also be found by following this link to the UIS Ukraine webpage. We encourage all members of CYM and especially our druzhynnyky to check out the information. There is an on-line petition which can be accessed and signed by following this link

To sign the petition you have to be aged 18 or over. There are also several other ways of making your views known if you disagree with the European Parliament's resolution on Stepan Bandera. You may write:
- directly to your MEP
- to the UK MEP who leads on foreign affairs for a political group
- to MEP / EU parliamentary group via Facebook pages
- to the European Commission head of Foreign Affairs, Baroness Ashton.

The following links will take you to the European Parliament website page from which you can find MEPs by location and/or by political grouping.
European Parliament Political Groups
Your MEPs: Constituencies

You can also find out who your local MEPs are from your postcode through the following link:
MEP by Postcode

The foreign affairs lead for the European Conservative Group, Charles Tannock MEP, can be contacted through this link: Charles Tannock MEP

The various political groups also have Facebook pages where those who are Facebook members can register a protest. The Conservative Group Facebook page

Other Facebook pages can be found on the sites of each political group.

Baroness Ashton can be contacted at the following address COMM-SPP-HRVP-ASHTON@ec.europa.eu

We encourage all our members and especially those eligible to sign the petition, to make their views known.