Podilya in Kyiv


Between 4th and 9th September 21 dancers and 7 support personnel flew to Ukraine to take part in the "Zoloti Vorota" International Youth Folklore Festival in Kyiv.


Since June the older members of Podilya attended rehearsals which continued throughout their summer holidays to prepare for the festival. Everyone's hard work and commitment was well rewarded as the reception we received from the organizers and other participants was overwhelming. Not knowing what to expect of a group from Great Britain they were amazed to see the passion and Ukrainian culture that Podilya brought to the festival. Receiving ecstatic compliments form a member of "Virsky" was praise in deed!

11 hours after leaving Manchester we finally arrived in Kyiv, tired but full of excitement, as for many it was their first trip to Ukrayina. Once we finally arrived at our accommodation and had supper, we joined the rest of the groups from Ukraine, Italy, Russia, Moldova and India for a welcome reception and party. Although we were prepared for spartan accommodation, nothing could have prepared us for what was waiting for us in the bathroom! Everyone took it in their stride, as seasoned summer campers at Tarasivka, we all adapted extremely well.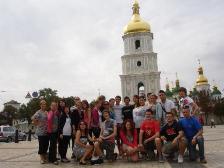 The following day we performed at an open air concert in Taras Schevchenko Park. This was followed by a 2 hour parade of the groups through the main streets of Kyiv - Volodymyrska street - Bogdan Hmelnicky street - Khreshatik street – Majdan Nezalegnosti and Evropeiska Plosha, ending at the central stage in the Municipal Park of Culture for the opening ceremony and gala concert, which just happened to be next door to Dynamo Kiev football stadium where Ukraine were playing Andorra and winning 5 - 0.

On Sunday we had a sightseeing tour around the city and then a performance in sanatorium "Zhovten" (Koncha-Zaspa) which was about an hour's journey out of Kyiv. Monday we visited the open air "living Ukrainian village" and then had free time to shop until we dropped. Tuesday we had an excursion to Kyivo-Pecherska Lavra before heading for the Centre of Ńulture and Art, for a gala concert and closing ceremony. It was an absolute joy to watch local people supporting their own children on stage, whistle, stamp, and shout even louder and with more vigour for our children's performance!

After the concert whilst waiting for the coach to take us back to our accommodation, we had an impromptu street party with all the other groups outside St. Sophia. The party continued back at the accommodation around a bonfire into the early hours. This time was also spent exchanging gifts with the other countries, swapping email addresses and saying our farewells.

It was pleasant to witness the interest on the kid's faces whilst we visited the historical and cultural sites around Kyiv. We did not expect to be answering so many questions. They definitely kept us on our toes!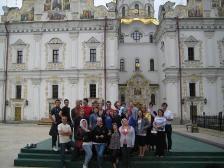 We had a fabulous time. Our CYMivtsi, your children, were exemplary in they behaviour, performed faultlessly and made us extremely proud. This is the vanguard of future events which we intend to continue for future generations.

This tour would not have been possible without the encouragement, support and hard work of CYM Manchester and its committee. Four of whom accompanied the group, along with three other support personnel including a doctor and a nurse.