Holodomor Campaign Workshop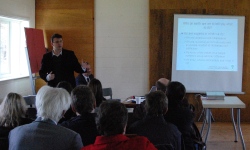 The Association of Ukrainians in Great Britain held a seminar at Tarasivka on the 6th April to improve the organisation of the respect for the memory of the victims of the Holodomor of 1932-33 in Ukraine. This years marks 75 years since this tragedy of the Ukrainian nation, in Great Britain a Holodomor commemoration committee has been formed, chaired by Bohdan Ratycz. The committee also consists of Lessia Djakowska, Fedir Kurlak, Iryna Terlecky and Martyn Chymera. Activists of the Ukrainian community in Great Britain gather in wintery conditions and unexpected snow on a cold Sunday to attend the Holodomor workshop. One of those present was the niece of the Welsh journalist, Gareth Jones, Dr. Margeret Colley. Dr Colley actively keeps alive the memory of uncle, who was brave enough to write the truth about the Holodomor in 1933 in British newspapers.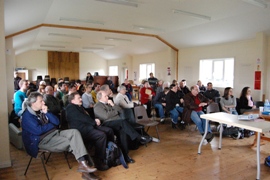 During the seminar three representatives of a PR company, 8hwe, gave professional advice on who to lobby the British government to acknowledge the Holodomor as an act of genocide against the Ukrainian nation. They presented a campaign strategy and tactics, a plan of action to achieve the desired goal and suggested ways of commemorating the victims of the Holodomor in local media and to members of the British parliament. Younger members of the audience had the opportunity to develop and improve skills required to conduct television interviews about the Holodomor and to argue their position in debates. The organisers ensured that every Ukrainian community in the country obtained a handbook about the program of events in memory of the victims of the Holodomor and instructions about their preparation.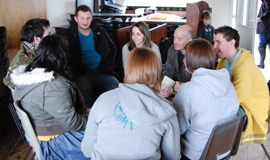 On 27th June, a torch of remembrance of the victims of the Holodomor will arrive in Great Britain from Chile. This torch will visit many cities in Great Britain before continuing on its journey to Ukraine. This initiative was started by Ukrainians in Australia and has the support of Ukrainian diplomats, who will accompany the torch during its transit between countries. A remembrance event will take place in central London in November; organisers hope that around 5000 people will gather for this event.