Regional Conference and Working Session for Ukrainian Youth Association Educators and Organisers
Southern Region – Derby 25th March 2007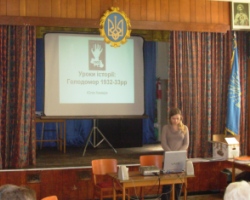 The second Conference and Working session for UYA educators took place on 25th March in Derby. 14 members, including 9 participants from 4 branches attended the event. The session was once again led by Genia Mandzij (Chair of the Educators board) and Hania Szlachetko (member of the Education Board). Yuliya Chymera gave a presentation on the Great Famine 1932-33 (Holodomor) which included a short film, "Holod 33". Technical assistance was provided by Volodymyr Szlachetko (UYA GB, vice chairman) and Martyn Chymera (UYA GB CYMnet representative).

The presentation of electronic versions of educational materials and questions about the assessment of youth members at all levels of the organisation resulted in a lively discussion. The practical sessions once again produced valuable ideas and materials for summer camps and branch lessons. The day's session included a "swap shop" of educational materials, which had been collated by members of the Education Board from various sources. This proved to be very popular and every branch present enriched their supply of information on anniversaries to be marked in 2007.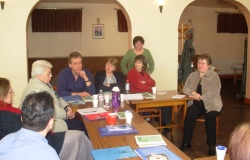 The delegate feedback was extremely positive and after various discussions useful suggestions were made for the continued work of the Education Board.

Special thanks to the Derby branch, who provided essential practical support to ensure the event ran smoothly and prepared an appetising lunch for the attendees. Thanks also to the AUGB Derby branch for the use of their facilities.


Written by Genia Mandzij
Translated by Martyn Chymera