The National Committee Plenum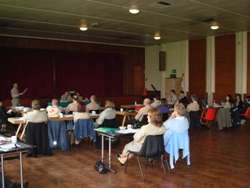 The National Committee Plenum took place in Tarasivka on 21 April 2007. Representatives from branches of the Ukrainian Youth Association in Great Britain took part in the proceedings. The Plenum gave an opportunity for the National Committee members and branch presidents to report on the last years work, and an opportunity for delegates to ask questions and put forward any requests.

During the Plenum three work sessions took place. The first session focused on ideas for the forthcoming bazaar (summer fair). This year the Ukrainian Youth Association in Great Britain hopes to host the annual football competition as part of the summer fair.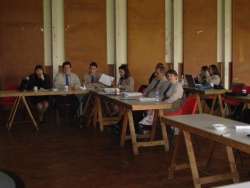 The second session focused on the activities for the young adults (drushynyky) in the association on all levels of the organisation. New ideas for national activities specifically for young adults of the UYA in GB were discussed as well as involvement in the International drushynyky group.

The Great Famine (Holodomor) was discussed in the other session. The 75th anniversary of the Great Famine will take place in 2008, members of the Ukrainian Youth Association discussed ways of marking the anniversary, raising awarness through education and by canvassing members of parliament to sign up to an Early Day Motion to have the Great Famine recognised as genocide against the Ukrainian Nation.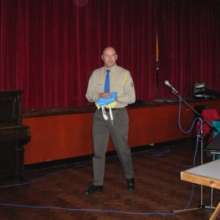 Towards the end of plenum the "perehodoviy prapor" was awarded. The "perehodviy prapor" is a flag, award by the president of the UYA in Great Britain to the branch which has been most progressive and active over the last year. This year the flag was awarded to Derby, Bohdan Pryhidniy cited several reasons for awarding the flag to Derby including their excellent representation of the UYA in Great Britain in Germany when the 60th anniversary of UYA activities outside Ukraine. Long serving members of the Ukrainian Youth Association were recognised for the hard work they had put into the UYA with awards.