Remembering Kruty

History of battle of Kruty is unique, young (university and school) students rose to protect independence. Neither deep snow nor freezing temperatures (-15 degrees C) , nor the invasion of four thousand experienced hostile Russian-bolshek soldiers, nor 5 hours of continous battle did not force young heros to step back. They all perished. Only 27 survided the battle, they were shot the next day.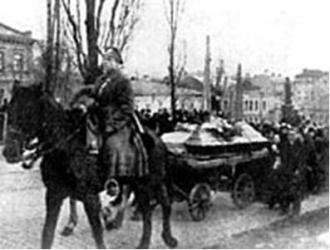 About 300 Ukrainians lost there lives. However only the names of those taking prisoner are now. The shot prisoners were buried on the Gate of Askold in Kyiv.

Indisputably the heroic act of the students from Kyiv was the greatest display of courage, patriotism and self-sacrifice on behalf of their nation. We remember those who persihed on the 29th January 1918 protecting Ukraine's future, its identity and freedom, protecting our future.

As the snow covers the ground,
The white surroundings will not be forgotten,
Remembering the glory,
That was left at Kruty,
Eternal glory was created,
Ukrainians near Kruty,
Don't forget the 300 heros,
Remember them, don't forget.