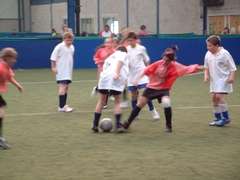 The National 5-a-side competition for the Ukrainian Youth Association took place on Saturday 28th April 2007. In a very close competitions the teams from the Derby branch won both the under 12s and under 18s categories.

A total of 14 teams, 7 in each age category participated in the competition which took place at the JJB Soccer Dome in Derby. The teams were from Bradford (3), Derby (2), London (2), Manchester (4), Nottingham (2) and Rochdale (1). Most of the branches entered teams into both categories. There were a number of mixed teams, and an all girls team from Manchester, who demonstrated without any doubt that girls can play football.





The under 18s competition was won convincingly by Derby with Bradfordís A and B teams finishing in second and third place respectively.

Under 18ís final positions

1st Place: Derby 16 Points
2nd Place: Bradford A 13 Points
3rd Place: Bradford B 10 Points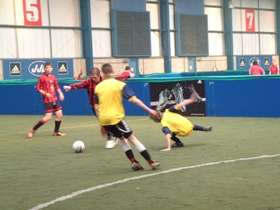 The u12s competition was much closer, with hardly any difference between the top three teams. The top three teams, Manchester, Nottingham and Derby all finishing with 10 points. Goal difference was used to separate the leaders, leaving Nottingham and Derby level, with a goal difference of +4. Derby claimed the trophy having scored two more goals than Nottingham to give Derby the double (u18s and u12s).

Under 12's final positions

1st Place: Derby 10 Pts GD 4 GS 6
2nd Place: Nottingham 10 Pts GD 4 GS 4
3rd Place: Manchester 10 Pts GD 2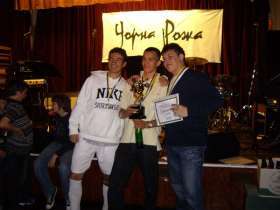 After the competition the competitors, parents and guests went to the Ukrainian club in Derby for refreshments and a buffet. The trophies were presented to the winners and everyone stayed at the club to enjoy the evening zabava. Chorna Rosha entertained into the early hours of Sunday morning. Everyone thoroughly enjoyed the day and continued to enjoy themselves well into the evening.