The weekend of 23-24 February 2002 saw the first ever workshops about CYM on the Internet (or "CYMnet) in Britain's two largest oseredoks, Manchester and Bradford. Taking part in the workshops were members of the oseredok's older youth groups, interested druzhynnyky and members of the local CYM committees. The three-hour sessions were led by Roman Pawluk, who sits on the National Committee with responsibility for developing CYMnet in the UK,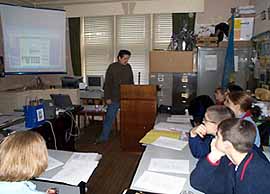 and Roman Panas, chairman of CYM in Great Britain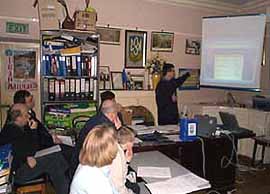 The workshops sought to inform the oseredoks of the benefits and potential of CYMnet within their own local educational and organisational activities, and to help them set up their own local web-sites linked in with the national web-site maintained by the National Committee. In the limited time available, participants in the workshops were introduced to the history and current activities of the CYMnet projects, the overall structure of CYMnet, problems associated with Ukrainianizing computer systems, CYM email addresses, help for CYM leaders and educators, CYM discussion forums, CYM interactive games, future projects and how to start developing your own local CYM web-site.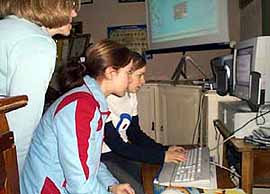 . The race is now on to see which oseredok in the UK will become the first to set up their own web-site hooked into the international CYMnet infrastructure.

History - aims - activities of CYMnet
Ukrainianization of computer operating systems

Structure of CYMnet

Discussion forums

Teaching material for instructors

Electronic mail
Oseredok web-sites

Resources for CYMnet webmasters

Legal issues

CYMnet projects

CYMnet members functions

How to create an oseredok web-site

Question and answer session

All CYM members world-wide can have their own CYM E-mail address.
To find out more about E-mail contact your UK CYMnet representative
rpawluk@cym.org