CYM National Rally - Krayovyi Zdvyh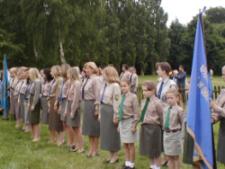 On Saturday 5th July 2003, the Krayovyi Zdvyh took place in Tarasivka, under the haslo - "Contra spem spero!" ("hope against all hope!").

As this year's First Place Oseredok, sumivti from Bradford lined the entrance to the Chapel enclosure, whilst oseredky from all over England marched in through the gates for the Official Ceremony, which was opened by the Head of Krayova Uprava, druh Roman Panas. During the Official Ceremony, four of Bradford's young female sumivti took part in the raising of the CYM flag.

Following successes at the Okruzhnyi Zdvyh, East, in June, Oseredok Bradford entered various groups into the competition, which took place in the afternoon. All our sumivti and their vykhovnyky worked hard in the build up to the Krayovyi Zdvyh, but there can only be one winner, and our oseredok returned to Bradford with three first place trophies:

- Older sumivka, Katrusia Prodywus (accompanied by Mark Danylczuk on the keyboard), obtained 88 points with her solo singing performance.

- Young Krylati dance group, obtained 82 points and achieved joint 1st place with oseredok Derby, in the category of Mixed Dance Groups, aged 7-12.

- Young sumivti, obtained 77 points in the category Mixed Choirs, aged 7-12.

A great effort from everybody who participated in the Krayovyi Zdvyh this year!