Carol Singing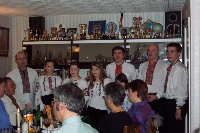 Christmas is here again. This year, like every year the young sumivchi and the pupils of the Ukrainian school in Bradford will go carol singing for their family,, friends acquaintances and most members of our oseredokís houses. This tradition is continued from that brought from Ukraine by our Grandparents when they emigrated.

On Christmas eve and on Christmas day, sumivchi and Ukrainian school childern go carol singing together. Initially it was easier as the Ukrainian settlement in Bradford was concentrated, but now the Ukrainian community is spread throughout Bradford. It is a lot harder to visit everyone, but great effort is put into carol singing for as many as possible. Carol singing gives the opportunity to visit people who are not well and do not have the opportunity to go to the Ukrainian club or to the Ukrainian church. They still know that the Ukrainian youth care about them and are thinking of them at Christmas.

The youth collect money for CYM and the Ukrainian school. The money raised is used to help the participants to continue their work, so we donít forget about Ukraine and our Ukrainian traditions.

Christ is born! Praise him!