Visit of the Bishop to Bradford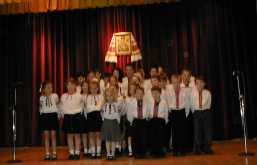 On Sunday 30th March 2003, the Bishop, the Most Reverend Paul Chomnycky, OSBM, visited the Ukrainian community in Bradford. The Bradford branch of the Association of Ukrainians in Great Britain headed the event and the entire community worked effortlessly in the weeks preceding the occasion, thus contributing to the successful running of the day.



The program was as follows: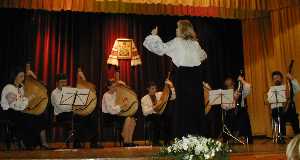 In the morning Mass took place at the Ukrainian Catholic Church, during which sang the Ukrainian Ladies Choir from Bradford "Mria", led by Mrs Maria Danylczuk. Following Mass, a reception was held at the Ukrainian Club. Chairman of the Association of Ukrainians in Great Britain (Bradford), Mr Jaroslav Baran, and Chairperson of the Association of Ukrainian Women (Bradford), Mrs Halyna Prodywus, greeted the Bishop at the main doors to the hall on behalf of the whole community, in the traditional Ukrainian manner with bread and salt. Mrs Irene Barnowska then took over as Master of Ceremonies.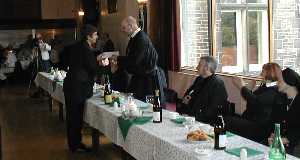 Lunch was prepared by the chief cook, Mrs Stefka Stefanyczyn, and her volunteers, and members of CYM served the food to the Bishop and the 200 people, including guests from Leeds and Keighley, who had chosen to join in the festivities. After the meal, the Bishop was treated to a concert, which included performances from children from CYM and the Ukrainian School in Bradford, the ladies choir and the bandura players, the latter led by Mrs Vera Temczyczyn.

After the concert, each organisation in Bradford welcomed the Bishop with a monetary gift. The Bishop gave a short speech and for the remainder of the evening he mingled with members of the community.