Bradfordians Back Yuschenko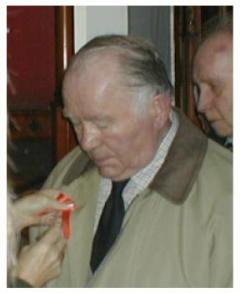 Ukrainians in Bradford have been showing their support for Viktor Yuschenko, democracy and political freedom in Ukraine.

On Saturday 27th November, the Ukrainian community in Bradford united during the National Day of Sorrow Annual Mass, marking the Great Famine in Ukraine (1932-33). Sumivti took this opportunity to pin orange ribbons on all those attending the Mass, thus showing our solidarity with our fellow countrymen in Ukraine, who have been demonstrating since the result of the disputed Presidential Election was announced on Monday 22nd November. Young and old alike joined together in prayer for a peaceful and rightful resolution to the issue of the Ukrainian Presidency.

On Sunday 28th November, two full coaches from the Ukrainian communities in Bradford, Keighley and Huddersfield travelled to London to join in the national demonstration. It was not possible for everyone to attend, due to individual circumstances and previously arranged events that could not be cancelled. Those who remained were with the protestors in spirit. Pictured are members of our football team, Bradford Ukrainians FC, who wore orange armbands in support of Viktor Yuschenko's party during their match in the Bradford Sunday Alliance League.

Along with the supporters of Yuschenko, who continue their demonstrations not only in Independence Square, Kiev, but also throughout western Ukraine, we sincerely hope for an expedient outcome to the election mayhem, which reflects the true wishes of the majority of Ukrainian voters.