A Visit from St Nicholas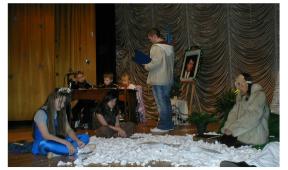 On the evening of Sunday 18th December, the Ukrainian community in Bradford received a visit from St Nicholas. The evening began with the youth members of CYM paying homage to St Nicholas. They performed a short play followed by several songs. On his arrival, St Nicholas was escorted down the central aisle of the main hall and up to the stage by the angels, where for the rest of the evening he handed out presents to all the children in Bradford's Ukrainian Community.

This year, the Kutsmand family from the Donetsk region in Ukraine visited Bradford. Podruha Vera Kutsmand is the Chairperson of CYM in the town of Telmanov and was very surprised to receive a gift from St Nicholas himself here in Bradford! During their stay, podruha Kutsmand gave our oseredok a pennant depicting the Donetsk region, which now hangs proudly in our Ukrainian community centre. We wish podruha Kutsmand and her family a happy Christmas and a prosperous new year.