A Visit from St Nicholas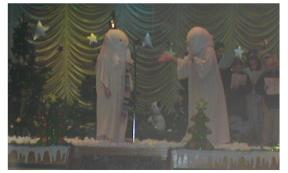 On the evening of Sunday 19th December, the Ukrainian community in Bradford received a visit from St Nicholas.

The evening began with the youth members of CYM paying homage to St Nicholas. They performed a short play entitled "The Snowman" and then several sumivti recited poems. Young sumivka Katrusia Prodywus concluded by reading an informative biography of St Nicholas.

As if on cue, St Nicholas arrived in the hall and was escorted down the central aisle up to the stage by the angels, where for the rest of the evening he handed out presents to all the children in Bradford's Ukrainian Community.