Veseli Halychany Visit Bradford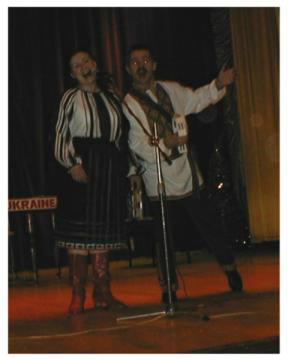 On Saturday 24th January a Celebration of Independence and a Carol Concert were held in Bradford. This year the event was organised by uprava CYM, with assistance from SUB (Association of Ukrainians in Great Britain, Bradford), and we were honoured to welcome the Ukrainian folk group Veseli Halychany to appear as part of our celebrations.

Holova CYM, druh Stefan Jarockyj, acted as compere for the evening. The independence celebrations were started by Mr Jaroslaw Wasyluk, who read an essay charting the history of Ukraine's struggle for independence. This was followed by the druzhynnyky members of the dance ensemble Krylati, who performed two dances. Our visitors from Ukraine then took to the stage and performed various songs and dances, many of a comical nature, which greatly appealed to the audience.

The carol concert began with the children from the Ukrainian School in Bradford and CYM performing a musical sketch "The Magical Christmas Tree" and the bandurists from Bradford played several carols. The main act of the evening was a traditional Ukrainian nativity, laid on by the Veseli Halychany.

A dance followed the concert, during which the Veseli Halychany not only provided musical entertainment, but also joined in the dancing with the Bradford community.

We would like to thank the members of the Veseli Halychany for their entertainment and for their company in what was a thoroughly enjoyable evening.