XXVIII Triennial General Meeting of the
Ukrainian Youth Association of Canada
---
[
Article
|
Photos 1
|
Photos 2
|
Photos 3
|
Photos 4
]
---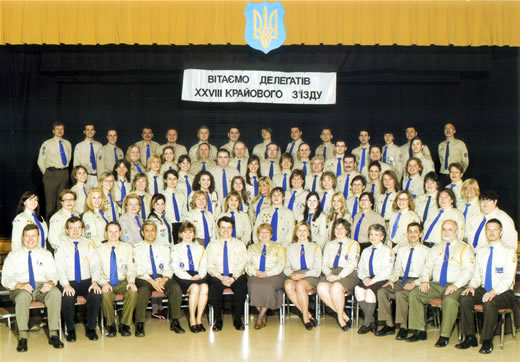 Ukrainian Youth Association of Canada elects new National Executive
The Ukrainian Youth Association of Canada (UYA) held its Triennial Congress April 27-29 in Mississauga, Ontario. Attended by 71 delegates representing 10 branches from across Canada, the congress elected a new national executive for a three-year term headed by Iryna Jendzjowsky from Edmonton.
Delegates had an opportunity to contribute to the further development of the organization's educational programs with a particular emphasis on leadership training and mentoring. It is the goal of the UYA to educate young leaders who will be prepared to face the many societal challenges which threaten our community in Canada – assimilation, apathy, lack of volunteer commitment and funding, to name only a few. The organization remains steadfast in its commitment to ensure that youth of Ukrainian descent in Canada are afforded opportunities to preserve their heritage and traditions with a sense of belonging to a larger community.
Also on the agenda were the continued development of the organization's camp "Weselka" in Ontario, as well as the administrative topics of trademarks, affiliation agreements and codes of conduct.
In conjunction with the Triennial Congress the organization's Mississauga branch celebrated its 25th anniversary with a banquet and dance on Saturday evening. The program highlighted the local branch's accomplishments over a quarter century with video presentations and performances by its membership. Guest speaker Rev. Taras Dusanowskyj highlighted the continued significant role of the Ukrainian Youth Association in helping Ukrainian youth stay connected to their heritage and community.
Delegates elected the following individuals to the Ukrainian Youth Association of Canada's National Executive for a three-year term: Iryna Jendzjowsky – president, Dmytro Leshchyshen, Taras Szmihelsky, Marusia Wowk, Olyana Grod, Lesia Szwaluk, Eerka Shust-Dankowycz, Halyna Holowka and John Koshyk.
---
[
Article
|
Photos 1
|
Photos 2
|
Photos 3
|
Photos 4
]
---