"Chervona Kalyna" HIKING CAMP 2012
---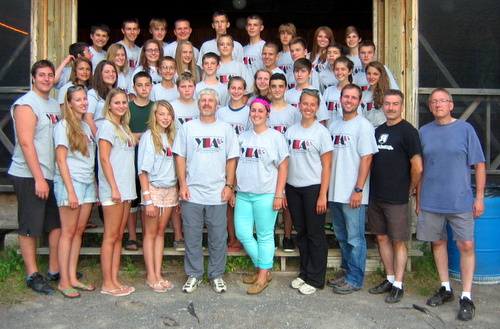 This year's hiking camp named Chervona Kalyna (Red Guelder Rose), took place at Camp Werchowyna near Montreal from July 22 to 29. The campers travelled from the CYM branches of Etobicoke, Montreal, St. Catharines and Ottawa. In all, 31 youth and nine staff members traveled to Mont Tremblant, where they went boating and swimming in the lake, sang by the campfire and slept under the stars in their pitched tents.
This year's camp staff consisted of the following: Yuriy Shust (Toronto) - commandant, Alexandra Michailuk (Montreal) – bunchuzna, Natalia Kardasz (Etobicoke) - secretary/counselor, Oriana Hrycyshyn (Etobicoke) - counselor/lifeguard, Christine Horonowitsch (Montreal) - counselor, Markian Grod (Etobicoke) - counselor and Alexander Zelyk (Etobicoke) - counselor.
The kitchen was staffed by Roman Blyszczak and Wolodymyr Usyk. The Administrative Committee included members of CYM Montreal, the camp organizing committee and representative from Camp Werchowyna. Everyone worked well together in the planning and realization of the camp's program for the campers. From Monday to Thursday, the campers went into the mountains near Montreal where they lived among nature and learned to canoe. During the camp they learned to properly set up tents, build fires, provide first aid, tie knots, etc.
On Friday, the campers went to Arbraska where they had the opportunity to go zip lining from tree to tree. These "air paths" took the form of suspended bridges, swings, and other lines. On return to Camp Werchowyna, the campers participated in Olympic-like competitions, prepared by Peter and Orest Mytko. Divided into different "countries", the youth participated in dashes, jumps, hurdles, archery, shot-putt, long jump and boat races.
After the Olympic Games, the campers had another competition where each group had a chance to show off what they had learned during the week of hiking. The group that correctly answered questions and could apply the newly acquired knowledge in a practical way - won.
On the final night, the campers danced late into the evening. The next morning, everyone went to the chapel for Divine Liturgy and this was followed by the formal conclusion of the camp. With that, the campers received their badges and certificates for skillfully completing the camp.
The camp staff expresses its thanks to all the campers for their active and enthusiastic participation, to the team members and counselors for their tireless work in implementing the camp program, to Roman and Wolodymyr for cooking delicious meals, to CYM Montreal, especially the camp organizing committee for its continued work in organizing the camp and also to the Camp Werchowyna reps for their ongoing technical assistance. We hope that we will have many more opportunities to meet at CYM camps.