CYM Facilities Management Teams Hold Best Practices Gathering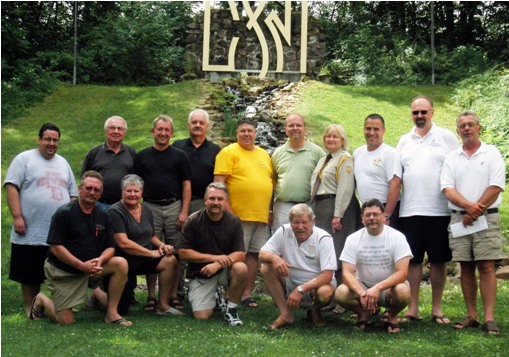 On July 23-24, 2010, CYM's Baraboo, Wisconsin campsite hosted more than a dozen facilities managers of CYM, the Ukrainian American Youth Association, for a meeting on best practices in managing the organization's summer camp estates (known as "oselias"). The meeting was attended by representatives of the organization's "Kholodnyj Yar" oselia in Fillmore, NY; the "Khortytsia" oselia in Cleveland, OH; "Kyiv" oselia in Detroit, MI; as well as CYM's Ellenville, NY and Baraboo, WI oselias.
Each year CYM organizes and runs dozens of summer camps for its youngest members, most of which probably don't give a second thought to how much work and effort goes into maintaining and upkeeping the facilities of the oselias, each of which typically consist of hundreds of acres of land with numerous buildings and structures. Most of CYM's oselias in the United States were purchased around 50 years ago, when the organization was growing at a rapid rate and the leadership felt that owning its own campgrounds would be greatly beneficial to its members. That assessment has proven to be on the mark; several generations of young Ukrainians have grown up on these oselias and feel a strong emotional tie to the places where they spent summers growing up with other Ukrainian children of their own age. They continue to return to their oselias year after year, even as adults.
The managers and directors of the oselias have, over the years, gained remarkable experience and become experts in running the large estates for which they are responsible. Yet, as in any organization or business, over time each site has developed its own methods, processes and policies which have evolved to suit the needs of their environment. CYM's National Executive, recognizing the wealth of knowledge within each management team, invited them all for a weekend gathering where they would have the opportunity to exchange ideas, share best practices, and pose difficult questions about current issues to their colleagues who have faced similar issues or problems while running their own estates.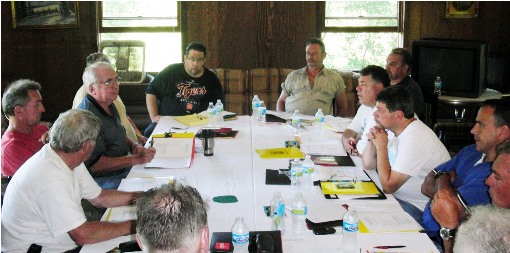 The subject matter of the weekend's discussions included administrative and legal issues, policies and procedures; finances, budgets, bookkeeping and fundraising; facilities expansion, maintenance and repair; workers, volunteerism and management of employees; camping, events, guest services; and many other topics of interest to each management team. Each oselia shared information about what it considers its greatest achievements and biggest strengths, as well as the areas of most concern and the most sleepless nights. In most cases, the attendees walked away from discussions with numerous new ideas to consider and novel approaches learned from their counterparts at other geographical locations.
Many thanks go out from the attendees of the weekend gathering to the management team of CYM's Baraboo, Wisconsin oselia for hosting this year's meeting and providing a live example of an oselia operating during its busiest part of the season – walking through the oselia and seeing operations in full swing was an exercise that was both instructive and inspirational in many ways!
Oxana Bartkiv