The Battle at Kruty
Neither cold weather nor deep snow could keep over 140 sumivtsi from gathering at the CYM oselia in Ellenville, NY on January 27th to commemorate the heroes of Kruty. Members of the Goshen, Hartford, Irvington, New York City, Passaic and Whippany branches of the Ukrainian American Youth Association (CYM) were present.
After the opening ceremonies, everyone went to play in the snow. The youths (as well as some brave parents) participated in all kinds of activities, including sledding, snow-fortress building and painting, snowman making and snowball throwing competitions.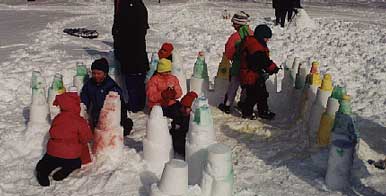 After a warm and cozy lunch, the activities continued. Those who were cold stayed indoors and listened to kazky, played games, painted in coloring books, or prepared snacks for birds which were later hung outdoors on Christmas trees.


Later in the day, everyone walked to the icon of the Virgin Mary on the side of the road to lay a wreath in memory of the young heroes who gave their lives for Ukraine at Kruty over 80 years ago. From here, all moved on to the vatra where they recalled the deeds of the brave heroes of Kruty. After this solemn moment, everyone took part in storytelling and singing. The evening ended with the traditional "iskra" and prayer. Everyone promised to meet here again next year, if not sooner at summer camp.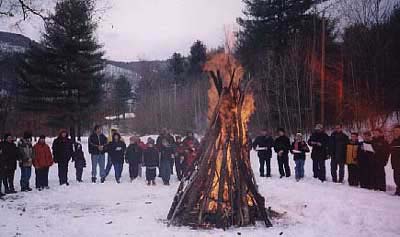 Once again, Oselia greeted us with open arms and reminded us all that we are members of the great Ukrainian CYM family.