CYM Debutante Ball 2008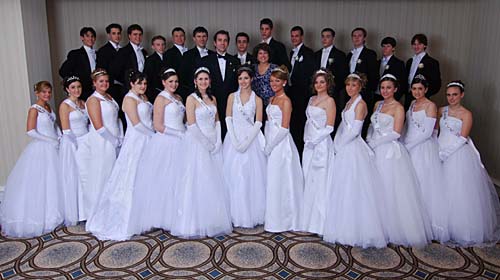 Ukrainian American Youth Association Debutante Ball
On February 2nd, 2008 the Ukrainian American Youth Association (SUM) sponsored it's 44th annual SUM Debutante Ball at the Sheraton Parsippany Hotel in Parsippany, N.J.. The chairperson of the ball's organizing committee, Genya Kuzmowycz-Blahy, reflected upon the pervasive significance of this event, so deeply steeped in SUM tradition that it continues to attract a large number of participants from the extended SUM family. She formally opened the ceremonies by welcoming together with the debutantes and their escorts and the assembled guests and then introduced the masters of ceremonies, Daria Horbachevsky and Andrij Burchak. Daria and Andrij introduced the 13 debutantes individually, elaborating upon each debutante's academic, SUM and community based achievements and upon their future career plans as each debutante made an elegant grand entrance onto the ballroom floor. After enjoying an affectionate exchange with her parents, each debutante was joined by her escort whereupon in union they performed a gracious and appreciative bow before the warmly applauding audience. The debutantes and their escorts, adorned in classic cotillion dress white and tuxedo black, enthralled their enchanted admiring audience with a vibrant yet elegant premier waltz, choreographed by Hryhorij Momot.
Very Reverend Mitired Archpriest Roman Mirchuk, OSBM Pastor of St. John the Baptist Ukrainian Catholic Church in Whippany and member of SUM led the entire ballroom in prayer. Bohdan Harhaj, the president of the National Executive Board of the U.A.Y.A. then warmly congratulated the debutantes and reflected upon their accruing responsibilities and wished them luck with their future endeavors. The ensuing banquet was embellished by the virtuoso piano music provided by Andrij Stasiw and followed by a grand " zabava " to the music provided by the HRIM band. The festive evening culminated in a traditional " kolomeyka" that lasted over 30 minutes.
A special tribute for the success of this memorable event is owed to the organizing committee which consisted of chairperson, Genya Kuzmowycz-Blahy, Myron Prijmak, Petro and Julia Kosciolek, Daria Horbachevsky, Natalka Kudryk, and Laryssa Blahy.
This year's debutantes included Halyna Bartkiw (Jersey City branch) escorted by Stepan Halkowycz, Anna Maria Blazejowskyj (Jersey City branch) escorted by Andrew Filewicz , Catherine Anastazia Bukalo ( Passaic branch) escorted by Stephen Dubenko, Myroslava Hreb (Jersey City branch) escorted by Michael Porada, Victoria Leigh Kebalo ( Hartford branch ) escorted by Dan Nysch, Alexandra Julia Koszarek (Passaic branch) escorted by Nicholas Podobinsky, Luba Mykijewycz ( Philadelphia branch ) escorted by Thomas Andrew Maksymiuk, Maryana Nikolin (Jersey City branch) ) escorted by Nazarij Kolinets, Valentyna Sofia Olynyk escorted by Michael B. Naumenko, Joanna Helen Podberezniak ( Passaic branch ) escorted by Matt Holowko, Christina Mary Sorano ( Hartford branch ) escorted by Mykola Kucyna, Diana Lioubov Stanczak ( Passaic branch ) escorted by Roman Mykijewycz, and Gabriella Vergara (New York branch) escorted by Bohdan Vitenko.
Orest Kozicky, M.D.
Press Secretary, National Board of the U.A.Y.A.
[ Article | photos1 | photos2 ]