Welcome to the
Hartford CYM webpage!
---
Celebrating 60 Years
1952 - 2012
---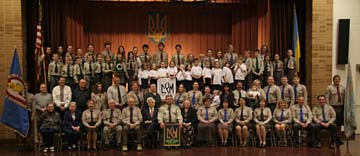 Members of the Ukrainian American Youth Assn (CYM) Hartford Branch gathered at the Ukrainian National Home of Hartford to begin the celebration of their 60th anniversary year (May 4, 1952) of educating Ukrainian American youth in Hartford with a group photograph, apel and social. 60th Anniversary Celebrations will continue with an "End of Educational Season" and "Svyato Ivana Kupala" on June 12, 2012 at JB Williams Park in Glastonbury as well as a Program, Dinner and Zabava on November 3, 2012 and the Hartford Malanka 2013 on January 12, 2013 at the Ukrainian National Home of Hartford.
---

---
Taras Chuprynka Branch
Viddil "Kruty"
---
UAYA Hartford
961 Wethersfield Ave.
Hartford, CT 06114
860.296.6955
hartford@cym.org
---
Our Hartford CYM branch was organized on May 4, 1952. We hold weekly educational meetings with Ukrainian youth from age 4 to 17 discussing Ukrainian history and culture. The association also sponsors recreational and social activities for its members.
---