---
Haven't heard their music yet? Listen to the Mad Heads XL!
4th of July Weekend!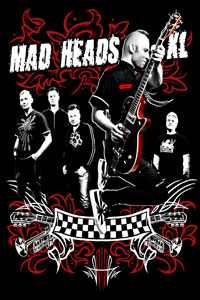 All weekend long...
starting Friday, July 1st
Join us morning, noon or night for food, fun and friends!
Delicious traditional Ukrainian food!
Cool down at our Olympic sized swimming pool!
At night, relax on the beautiful CYM grounds; adults are invited to the Dibrova Cocktail Lounge
Children's Games and Activities!
Scores of vendors to shop from!
On-site camping! (regulations apply)
Saturday, July 2nd
3 pm: Outdoor Concert - multiple musical and dance talents
9 pm: MAD HEADS XL Cocktail Reception (tickets sold separately)
10 pm: Dance to the sounds of HRIM and Zolota Bulava
Sunday, July 3rd
10 am: Liturgy
3 pm: Outdoor Concert- multiple musical and dance talents
9 pm: MAD HEADS XL Grand Concert!
11 pm: Dance to the sounds of HRIM and Zolota Bulava
A Cocktail Reception with the Mad Heads XL!
Don't miss it! On Saturday night at 9 PM, join us for a special Cocktail Reception that features an exclusive meeting with the Mad Heads XL artists as well as a private performance. Here's a chance to meet Vadym Krasnookyj, the founder of the Mad Heads XL, and each of the band's artists in person. A donation of $125.00 per person is required; tickets must be ordered in advance, by June 25th! Cocktail attire is prefered.

Download the invitation and RSVP card, and return with full payment to:
Mad Heads XL Cocktail Reception
c/o L. Blahy-Tatarenko
43-30 42nd Street, Apt 2R
LIC, NY 11104

Reserve your Cocktail Reception tickets today!

General Admission
Adults: $25 (if you arrive on Sunday), or $30 (if you arrive on Friday or Saturday)
Childen (7-17): $10
Childen under 7: Free!
Parking: $5 per car (trailers and tent prices vary)
You pay only once! A General Admission ticket entitles you to admission to the Festival for the entire weekend (from your arrival, through Monday), and includes the Mad Heads XL Grand Concert on Sunday evening.

Cocktail Reception: If you purchase an advance ticket for the Mad Heads XL Cocktail Reception, you will not be charged a General Admission charge - just show your Cocktail Reception ticket as you enter Oselia!
Hotel and Accommodations!
A limited number of hotel rooms may be reserved at the Oselia. Reserve your room today by calling 845-647-7230. Rooms at Krynytsia for three nights are available for $150 per night (with a three-night minimum stay: check-in Friday, check-out Monday). Additional days prior or after the weekend are available at very very reduced rates.

Since hotel rooms at the Oselia are limited, you might also consider accommodations nearby. Note that Oselia CYM does not have any special arrangements with these establishments, and cannot guarantee prices or availability.
Camp out on the CYM Grounds!
General camping as well as family camping are each available in specially designated areas. Call Oselia at 845-647-7230 to reserve a spot and inquire about our reasonable rates for pitching your own tent or pop-up trailer!
What you need to know:
To ensure that your visit with us as pleasant as possible, the following links are available for you:

Download the Festival Poster