IN UKRAINE ... JUNE 2009!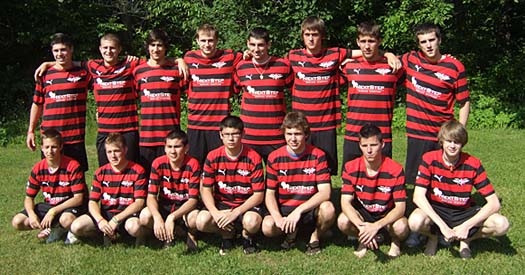 CYM – Ukrainian Youth Association – Sports Club "WINGS" ("Kryla") ...
... of the Mykola Pavlushkova Branch in Chicago is travelling to Ukraine for a series of friendly matches with Ukrainian soccer teams.

For quite some time, the U-19 team, who are members of the Ukrainian Youth Association, have been hoping and preparing for the opportunity to travel to Ukraine. These third and fourth generation Ukrainian Americans have now been blessed with the chance to play in Ukraine – the birthplace of their parents or grandparents, and the country they have learned about and held dear since they were little children.

Besides training, to help offset some of the costs of this trip, the soccer team devoted themselves to fundraising activities which included:
A youth dance to the tunes of the "Klopit" band – of which some band members are on the "Wings" team
Sale of tee shirts promoting the tour to Ukraine
All day soccer event for which the team members solicited pledges from sponsors
The planned matches in Ukraine are as follows:
June 19 – 12:30 pm vs. FC "Karpaty" in Lviv (CKA Stadium)
June 22 – 5 pm vs. FC "Lviv" in Lviv (Sokil Stadium)
June 24 – 5 pm vs. FC "Karpaty" in Jaremche
June 25 – 5 pm vs. FC "Gazovyk" in Bohorodchany
We invite all CYM members in Ukraine (and any travelling in Ukraine at that time), as well as all Ukrainian Soccer Fans, to attend the matches and meet the "Wings" !
Look for information updates on CYMNET. Questions may be forwarded to chicago@cym.org
HARTUJS'!