Zdvyh 2001
By Christina Jancew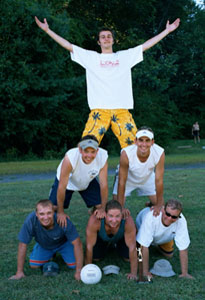 This year, Oselia CYM in Ellenville, New York saw some excitement during the Zdvyh weekend, September 1st and 2nd. This year mirrored last years sports schedule which included the Zdvyh Volleyball tournament on Saturday, and the "1st Team Soccer Game" as well as the "2nd Annual Old Boys Soccer Game" on Sunday. All who participated enjoyed the comradely associated with the competition against other CYMivtsi.
For the first time in years, CYM Hartford obtained 1st place in the yearly Zdvyh Volleyball Tournament, which led to a victory celebration by the team and their friends. There was also a showing of a newly formed Ukrainian soccer team from Stamford, Connecticut who even as a newly formed team defeated the unstoppable Yonkers Krylati. The Old Boys Soccer Game proved to be a challenge yet rewarding, for some of the men who still have not lost their talent after years of not even picking up a soccer ball. The first half had the 2 teams tied 0-0, but then the 2nd half saw some more net action which ended with a score of 3-0. To those men, we commend them! This game had players from CYM Passaic, CYM Yonkers, CYM New York City and CYM Hartford.
The standings for the tournament and games were as follows:
Zdvyh Volleyball Tournament:
1st Place - CYM Hartford
2nd Place - CYM Binghamton/CYM Boston
3rd Place - Dunai Express (mostly Sumivtsi from CYM Hamilton, CANADA)
also participated: Burlington Ukes from Burlington, CANADA
Most Valuable Player: Roman Czebiniak from CYM Binghamton
1st Team Soccer Game:
Stamford Levy: 5 - Yonkers Krylati: 2
2nd Annual Old Boys Game:
Team 1 (mostly from CYM Passaic): 3 - Team 2 (mostly from CYM Yonkers): 0
Congratulations to all who participated and we look forward to seeing them next year!
1st Place Team (wearing black) - CYM Hartford
2nd Place Team - CYM Binghamton/CYM Boston
MVP Roman Czebiniak (bottom row 1st on right)


Roman Zastawsky of CYM Hartford spikes the ball
while Micheal Rockwell and Michael Nosal of
CYM Boston go for the block.


Pavlo Maksymiuk of CYM Hartford looks on after his
spike as Roman Czebiniak attempts the block.


Myron Zastawsky of CYM Hartford goes for the kill as
Michael Nosal of CYM Boston goes for the block.