Taras Shevchenko Place to be Demapped
New York City -
DO NOT ALLOW COOPER UNION TO DISINTEGRATE THE EAST VILLAGE
SHEVCHENKO PRESERVATION COMMITTEE & THE COALITION TO SAVE THE EAST VILLAGE URGE THE COMMUNITY TO ATTEND COOPER UNION'S MEETING TO DISCUSS LARGE SCALE PLAN TO DEVELOP AND COMMERCIALIZE THE EAST VILLAGE:
Thursday May 3, 2001 at 6:00pm Cooper Union - Engineering School 51 Astor Place (between 3rd and 4th Avenue) Wollman Auditorium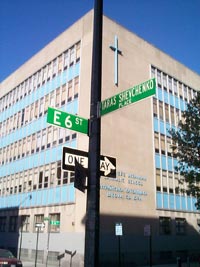 Cooper Union's plan will result in traffic congestion, eliminated parking spaces, and a decrease in affordable housing. Demapping Taras Shevchenko Place is the first step in their plan. We must stop Cooper Union from demapping Taras Shevchenko Place.
SAVE TARAS SHEVCHENKO PLACE And The EAST VILLAGE
We urge you to attend this meeting, support the COMMUNITY and speak out against Cooper Union's Plan to demap Taras Shevchenko Place.