Mykhailo Motruk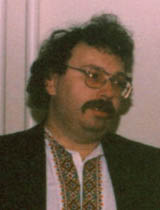 With great sadness, the Yonkers Branch shares the news of the passing of Mykhailo Motruk. Mykhailo unexpectedly passed away on December 25th, 2000 at the age of 42.
Mykhailo was a very active member of the Yonkers Branch. As a young boy, Mykhailo attendended CYM activities at the Yonkers Branch and on the Oselya in Ellenville, New York. There Mykhailo served as Commandant of various camps, served on the Oselya's board and volunteered his time to help with maintenance of the Oselya. We will never forget the way "Trutchi", as he was called, always greeted us with his friendly smile at the "Barbeque". Mykhailo attended almost all of the Zlets, Zdvyhs, Plenums, Zyizds and special occasisons held by the National Board as a representative of the Yonkers Branch. He was also deeply involved with the Fund for Medical Aid for Ukraine where he spent countless hours preparing and shipping parcels to Ukraine.
For the past few years, Mykhailo served as Secretary of the Yonkers Branch and Yonkers' CYMnet representative, and was a memeber of the branch's Nominating Committee. Mykhailo was a former Bulavnyj, as well as a member of the Chaika Ukrainian Dance Ensemble.
Mykhailo was an exemplary Sumivets who we can never replace. His good-natured character was the reason he was liked by all. The loss of Mykhailo will be felt by all, not only by his fellow Sumivtsi. His memory shall remain eternal.
Orest Kozicky M.D.
Yonkers Chapter President