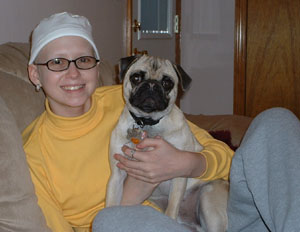 Meet Sylvia Hyra. She is a beautiful and lively 13-year-old girl with a strong desire to live out a lifetime of hopes and dreams. Sylvia has Acute Myeloblastic Leukemia. Her family wants very much for her to live a long and fulfilling life, but they need your support to make that possible. She is in need of a bone marrow transplant.
This operation is her only hope for a cure.
You and your loved ones are invited to:
"Sylvia's Brunch for Hope and Blood Drive for Life"
Sunday, March 16, 2003
at The Ukrainian Center
240 Hope Avenue -Passaic, New Jersey
Beginning at 9:30 a.m.
The Blood Drive will be conducted by Bergen Community Blood Services.
The donated blood will be sent to local hospitals and clinics.
The Children's Organ Transplant Association (COTA) will serve as the trustee of all monies raised, of which 100% will go towards Sylvia's medical expenses. COTA is a national charity (an IRS 501 (C)(3) Federal Tax ID# 351674365) dedicated to helping families of children who need life-saving transplants. All donations are tax deductible and donors will receive a mailed receipt for tax purposes. Please request if your employer will match your donation.
Tax Deductible donations will be accepted at this event or checks made payable to the following may be sent:
"COTA for Sylvia H."
2501 Cota Drive
Bloomington, IN 47403
Or for more information about COTA, please visit their website at www.cota.org.
Brunch sponsored by: Colonial and Van Houten Pharmacies of Clifton
Event co-sponsored by the following organizations of Passaic:
The Ukrainian Center, The Ukrainian American Youth Association and The Organization for the Defense of Lemkivschyna
Thank you kindly for your compassionate support, and your generous part in fulfilling Sylvia's hope to live out many lifelong dreams.
For more information, please contact: Krys Duplak @ 973-478-7384 or kduplak@yahoo.com