Ukrainian American Youth Association Plenum
Orest Kozicky M.D.
Press Secretary UAYA National Board

On Saturday April 23rd, representatives from Ukrainian American Youth Association (UAYA) chapters throughout the United States convened for a plenum at the Oselia CYM Resort in Ellenville, New York. Bohdan Harhaj, the President of the UAYA welcomed the 50 participants and introduced the plenum organizer Lesia Cebrij-Rago and the members of the organizing committee, Andriy Bihun, Petro Kosciolek, Zorianna Kobasniuk and Chrystia Weresczak.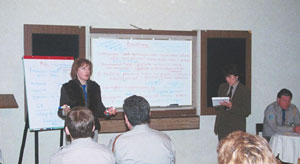 Lesia Cebrij-Rago and Zorianna Kobasniuk moderated the first session "What are the current goals of the UAYA?". Teodor Bodnar (New York) and Myron Pryjmak (Goshen) opened the discussion by presenting their views on this topic which started a lively discussion. The plenum determined that the UAYA goal remains the education of enlightened Ukrainians and the preservation of Ukrainian culture and traditions.
Wolodymyr Wyrsta (Philadelphia) moderated the second session "Should the UAYA become bilingual?". Oksana Bodnar (New York) and Katia Kucyna (Whippany) offered their opposing views and started an interesting discussion which culminated in the decision to conduct education in Ukrainian with the understanding that the English language can be used in limited degrees to facilitate the educating process.

Chrystia Weresczak, the western USA coordinator for the UAYA National Board moderated the third session "What are the characteristics of the UAYA that draw new members?" Marta Matselliuk (Yonkers), Yurij Symchyk (Irvington) and Serhij Mychajluk (Chicago) offered their views and opened another lively discussion.
Bohdan Harhaj closed the very successful plenum by thanking the members of the organizing committee for their work and all of the representatives for their participation. He invited all to attend the July 9th banquet to celebrate the 50th anniversary of the Oselia CYM Resort in Ellenville and the blessing of the new St. Michael's chapel at the Oselia CYM Resort on June 26th which is dedicated to the victims of the Visla tragedy.