Carnival!
A new tradition was recently born at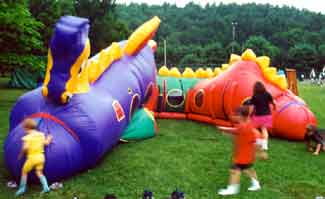 CYM's Ellenville, New York oselya -- a Ukrainian children's carnival unmatched by any in recent memory! As the sun peeked through the clouds on a Saturday afternoon in July, several hundred children gathered to play games, win prizes, get wet and enjoy the summer weather. Among them were campers enjoying this year's Sumenyata camp and older children attneding Vykhovno-Vidpochynkovyj camp.
Spread over a couple of acres on oselya's sprawling main lawn, this year's carnival offered something for everyone -- clowns, balloons, face and body painting by young Ukrainian artists, towering caterpillar tunnels and caverns filled with streaming balls, fishing, frisbee throwing and other arcade games, and what may have proved to be the most popular attraction -- a huge water slide which kids of all ages couldn't get enough of.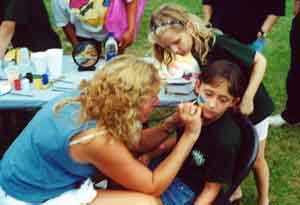 Face painting
Not that "Mokra Kurka" didn't get its share of visitors... what camper could resist a chance to dunk their camp's Komendant into the tank by a well aimed throw at the bullseye?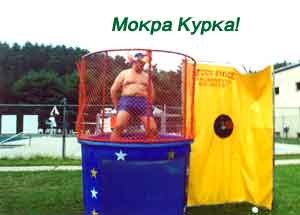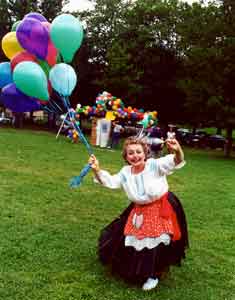 Balloons, anyone...?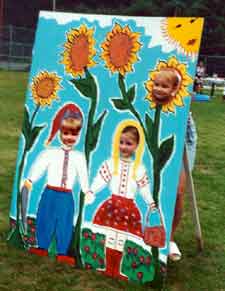 A picture-perfect day!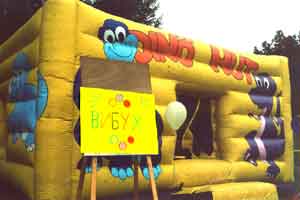 Bounce! Bounce! Bounce!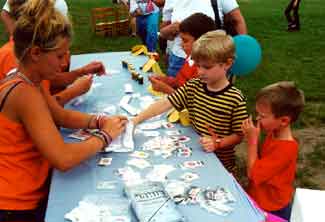 The tattoo parlor
Splash!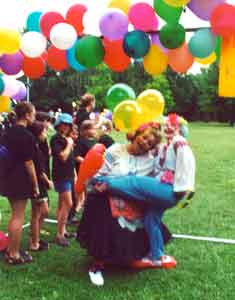 Send in the clowns!
The 2000 summer season has brought fresh and exciting events at the Ellenville site, as a new Oselya Administration takes charge. Still to come this summer - softball, soccer and volleyball tournaments, the First Annual Maryland CrabFest, a wine tasting reception, zabavas, and much more!