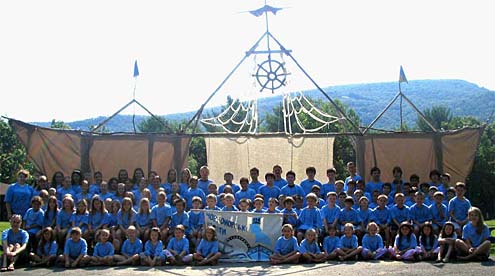 Vychovno-Vidpochynkovyj Tabir 2007
oselia in Ellenville, NY
---
[ Article | Photos 1 | Photos 2 ]
---
Pirates in the Shawangunks
Khrystia Bihun
For fourteen days in July, in a quiet valley at the base of the Shawangunk Mountains, CYM's Ellenville, New York summer campground was overrun by over one hundred pirates! Pirates? You heard right. This year's Vychovno-Vidpochynkovyj (Recreational) camp consisted of one pirate-themed thrill after another. The two week camp, which ran from July 15 through July 28, 2007 in Ellenville, was named "Chornomorski Piraty" (Pirates of the Black Sea), and was attended by over 100 boys and girls from a variety of east coast locales, ranging from Boston to southern New Jersey. A few campers (as well as the camp's first mate, the bunchyzhnyj) had even sailed here all the way from another favorite hideaway of Ukrainian pirates – Great Britain! The campground, tucked away on a hill surrounded by dense forest and nestled in the shadow of the Shawangunk Ridge, was gradually transformed into a pirate cove, complete with its own pirate ship. Under the guidance of Teo Bodnar, the starshi yunaky (that's "seasoned pirate veterans" in Ukrainian), built a grand walled gate at the camp's entrance in the form of a pirate ship, fully equipped with a ship's wheel, multiple sails and rigging. The balcony of the camp's main building was transformed into a ship's deck, with sails, a ship's wheel and a functional canon. This deck was a favorite hideaway for many frequent visitors; among them Captain Chorna Lastivka and his mate Adam Chornomorets.
In the past, CYM's vidpochynkovyj camp has traditionally catered to children aged 7 through 12. First-time campers have the option of attending a 1 week transitional camp where the kids are day campers for the first two days, and have the option of sleeping at camp with the "big kids". This year, a new program was added for older participants, aged 12 through 14, with opportunities to camp outdoors under tents, hike through the Shawangunk Mountains, rappel down a mountain, and participate in lots of other creative and innovative activities. As a result, three separate camps operated simultaneously for the varied age groups under the Vidpochynkovyj Camp umbrella. Each had a separate program of activities, but lived in a common are and shared much together. All three camps looked forward to evening visits with Captain Chorna Lastivka, who guided the camp through the sometimes choppy waters of the Black and Azov Seas. The campers learned about pirates, and in particular Ukrainian pirates – about the Chornomortsi, about ancient Greek settlements on the Crimean peninsula, about Saint Nicholas (the patron saint of the sea) and other interesting facts about life on Ukraine's seas and shores. One favorite pastime for campers was to collect beads, from which they incrementally beaded necklaces. Individual beads of various colors and materials were awarded by the staff for good deeds, random acts of kindness, compassion to their fellow campers, and for being good sports. The most coveted of the beads was the Black Pearl, awarded personally by Captain Chorna Lastivka to those going to great lengths to improve their fluency in the Ukrainian language.
Beads also served a secondary purpose – they became a currency for trading at the pirates' bazaar. Here kids could "purchase" various goods and trade for exciting activities. Within a few days, beads had taken on a life of their own as a local currency, and were being traded openly by campers among themselves in exchange for snacks and other popular items.
In addition the camp's traditional activities, this year's campers were treated to a river cruise on the nearby Hudson, a girls' spa night run by the female counselors, pirate games for the boys, and special pirate pool games. Some of the more dangerous pool games involved counselors having to walk the plank if they could not answer the question posed to them by Captain Chorna Lastivka. Sample questions included "How many mosquitoes can be found in your room" and "how many blades of grass are currently growing in camp", in an effort to grant as many counselors as possible a walk down the plank. (And into the pools notorious Deep End). The good natured counselors nervously walked the plank to the camper pirates' chants of "into the water!" The last evening of camp was celebrated with a Pirate's Night and included a special meal – varenyky and ice cream floats, two Ukrainian pirate favorites. An evening dance followed and was the envy of all, even in non-pirate circles!
But alas, with time all good things come to an end, and our pirate adventure was no exception to that rule. Campers and counselors gathered on their last day, in full home-made pirate costume and gear, to say their good-byes and to share a little bit of what they learned with their parents and guests. Closing ceremonies were unexpectedly and repeatedly prolonged as campers and counselors refused to end without renditions of favorite songs and special sing-along. It was hard to say farewell, but for most it was with the knowledge that they'll be back again next year for another magical summer of camping, friends, adventures and memories for a lifetime. Children of all ages can attend CYM summer camps; information can be found at the website www.CYM.org or by calling the camp directly at 845.647.7230. See you at camp!
---
[ Article | Photos 1 | Photos 2 ]
---